Main content
Karen Dunbar
Karen Dunbar is one of Scotland's best-known comedy actors.
Having entertained the Glasgow public in Bonkers karaoke bar she soon become well known on the Glasgow and Edinburgh gay scenes as a talented DJ and karaoke host. She had many entertaining encounters with the Glasgow public and built up an archive of Glaswegian characters to draw from in her acting career.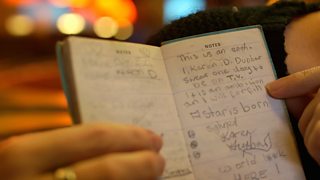 I don't have a scooby about football. And in Glasgow that's a bit like being a vegan at a square sausage party.
For Karen, Glasgow was the perfect place to make a new life for herself. Growing up in the small town of Ayr had come with its challenges but the vibrant, welcoming gay scene of Glasgow was enough to make her up roots for good. Despite not having any formal acting training, Karen attended The Comedy Unit's open auditions in 1997. She introduced herself in full wig and make up as Agnes, a wee Glasgow wifey, and it didn't take long for the Comedy Unit to recognise her talent. Karen soon fulfilled her childhood ambition to be on TV, where old Glasgow wifeys became a signature of Karen's comedy career.
In 1999 Karen landed a role with Greg Hemphill and Ford Kiernan in the sketch show Chewin' the Fat. Karen was then offered the starring role in her own show, The Karen Dunbar Show, which ran for four series on BBC Scotland. Since then, Karen has become a mainstay of Glasgow theatre. She regularly stars in the King's Theatre's prestigious pantomimes, were she has played fairy godmothers and wicked stepmothers to high acclaim.
Glasgow has been the key to Karen's success and she wouldn't call anywhere else home.