Main content
Akira Fukutomi
Aki is 25 years old and a first year doctor. He's just finished training at Imperial College, London.
His first job is in the fast-paced Acute Assessment Unit (AAU) – a quick-turnaround ward that receives patients from A&E or directly from GPs.
I'm basically the guy in charge of organising the social side of doctor life (and the coffee machine)

Akira Fukutomi
Born in Japan, Aki's family moved to Shropshire when he was 3 years old. As a kid, Aki had a natural flair for maths and science – the latter leading him into a career in medicine. When his parents divorced, his Dad returned to Tokyo, and Aki stayed with his Mum in England.
Marathon runner, Lacrosse player, ex-guitarist in an indie rock band – for Aki there's definitely life outside medicine. Both on the wards and on the town, Aki dresses to impress. He even sports designer Lycra on his daily cycle to work.
Since officially becoming a doctor, Aki compares it to his first job working in KFC – "at least in that job it wouldn't be life-threatening if I accidentally gave somebody a Zinger tower instead of a Zinger burger!" Ever eager to impress his peers and superiors, Aki is always the first to get stuck in and volunteer for any extra tasks.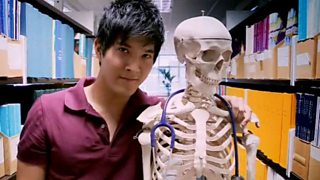 The social butterfly of the group, Aki has taken on the role of 'Mess President' – this means he's in charge of organising parties for the doctors. Keen to put on quality events for his colleagues, Aki cheekily demanded more money for drinks from the hospital CEO.
Aki's Week One Diary
"Today I don't feel like doing anything, I just wanna lay in my bed". Listening to this track by Bruno Mars as I cycle in to work feels slightly ironic. This song eventually becomes the anthem of the week as I find myself humming it at work. Having said that, I am enjoying being busy. Unfortunately everything I do seems to take three times longer because you don't know how to do it. If you're organising an outpatient appointment for a patient you're about to discharge, does it need to go through the computer system? Do I need to call anyone? Do I send a form? Which form? Who signs the form? Me?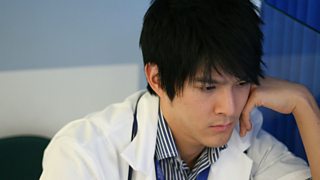 Day 2 and 3 went by a lot smoother, and my senior reassures me when he says that he feels comfortable working with me. I don't want this to get to my head though I've already made my first mistake… a Dr from an insurance company rang me up to ask about a patient – I got told off because I nearly gave patient information away over the phone. I won't be doing that again.
I finished week one feeling great having a job with serious responsibility. I used to work for KFC nearly a decade ago. I wouldn't have killed anyone if I got a Zinger Tower and a Zinger Burger mixed up. Having said that it's really tough working at a fast food restaurant so please have some patience with them next time you go.
I'm looking forward to my first pay cheque, which should be coming in a couple of weeks. Firstly I need to donate some money to Wikipedia as it is the most important medical text book that currently exists and got me through medical school. I also need to get my family something. I know, vom. But they've been great. What will I buy myself? I kind of feel like I have everything I need to enjoy my life, who knows maybe I'll save up to go travelling again.
Over the next few weeks I'm really looking forward to getting stuck into my role as "Mess President" – I'm basically the guy in charge of organising the social side of doctor life (and the coffee machine). I can't wait to get everyone together and enjoy everyone's company outside the wards.