Main content
Marc Allum
With an innate curiosity to search out the weird and wonderful, it's no surprise that Marc entered the antiques world and spent over 16 years as a Director of a major London auction house.
| Fact title | Fact data |
| --- | --- |
| Joined the Roadshow: | 1998 |
| Memorable find: | Anything quirky or unusual |
Marc has a wide range of interests including antiquities, ethnographic objects, Georgian glassware, The Grand Tour and 'all things strange'. His knowledge encompasses collectors' items, 20th century design and works of art – an eclectic selection well-suited to his work as a freelance writer, consultant and lecturer.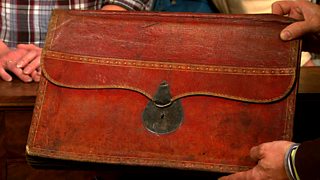 Marc joined the 'Miscellaneous' team on the Antiques Roadshow in 1998. The most memorable finds for him are not necessarily the most valuable ones, but the quirky or rare items that you never expect to turn up. Examples include models of totem poles carved by the Haida people of British Columbia, Neil Armstrong's camera, and Napoleon's briefcase. If he could choose a dream item to come in it would have to be something imbued with a mythical status – perhaps a lost treasure from the curiosity cabinet of the Holy Roman Emperor Rudolf II.
Inspired by a boyhood trip to Snowshill Manor, Marc's most treasured item amongst his own collection is a suit of early 19th Century Samurai armour.
Outside his working life, Marc is a real music buff and loves playing the bass guitar. He also enjoys writing, restoring old houses and digging out the welding torch to fix old cars.