Main content
Alastair Dickenson
Alastair Dickenson is an independent dealer based in Godalming, Surrey specialising in antique silver.
| Fact title | Fact data |
| --- | --- |
| Joined the Roadshow: | 1992 |
| Memorable find: | Silver punch bowl |
Alastair started working in the antiques business in 1971 at Phillips Fine Art Auctioneers. After an unfortunate incident with a rather valuable piece of porcelain, his boss thought that the silver department might be a safer option and he has been passionate about it ever since. He has been a director for both Asprey and Tessier and he lectures widely, particularly on fakes. In fact, Alastair made use of his knowledge of fakes during his memorable first Roadshow recording, when he had to tell a disappointed owner that her impressive looking silver punch bowl was not the real deal.
Alastair is a Liveryman of the Goldsmiths' Company, a Freeman of the City of Londonand is one of only two people ever to be re-elected to the Antique Plate Committee at the Goldsmiths' Hall. He has also served on the Court of The Company of Art Scholars, Dealers and Collectors.
If he could choose his most treasured object from his own collection, it would be a 1970 limited edition Gibson Flying V Guitar. Perhaps this isn't a surprise when you find out that in the early 1980s Alastair played in a band that toured with Hot Gossip!
When he's not working, Alastair likes to spend his time walking, sailing his boat, watching rugby and cricket, and of course playing one of his guitars.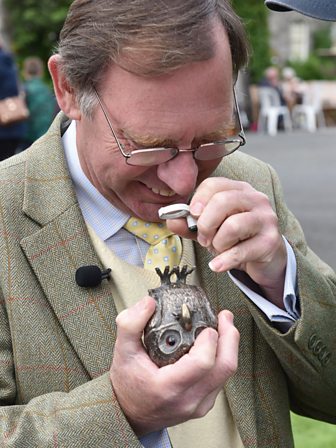 Arms & militaria

Arms & militaria

Arms & militaria

Books & manuscripts

Books and Manuscripts

Books & manuscripts

Books & manuscripts

Books & manuscripts

Ceramics & glass

Ceramics & glass

Ceramics & glass

Ceramics & glass

Ceramics & glass

Ceramics & glass

Ceramics & glass

Ceramics & glass

Ceramics & glass

Ceramics & glass

Ceramics & glass

Clocks & watches

Clocks & watches

Clocks & watches

Furniture

Furniture

Jewellery

Jewellery

Jewellery

Jewellery

Jewellery

Jewellery

Pictures & prints

Pictures & prints

Pictures & prints

Pictures & prints

Pictures & prints

Pictures & prints

Pictures & prints

Pictures & prints

Pictures & prints

Silver

Silver

Silver

Silver