Main content
BBC Future Food Award
In 2017 we were looking for cutting-edge innovation and pioneering work that could influence how the UK's food will be grown, distributed and sold in future. This award is for an ambitious and ground-breaking idea found within the food supply chain; from initiatives by national retailers and major food and drink manufacturers to new models being put into practice by farmers and producers. We asked to hear about the big ideas other food businesses will want to follow, work that deals with sustainability, health, food safety, energy or waste; any initiative which is scalable, commercially viable and applicable to food production and distribution in the UK. The Future Food Award 2017 finalists are:
Growing Underground
Growing Underground sustainably grow mouth-wateringly fresh micro greens and salad leaves 33 metres below the busy streets of Clapham. Using the latest hydroponic systems and LED technology, their crops are grown year-round in a pesticide-free environment that these forgotten tunnels provide.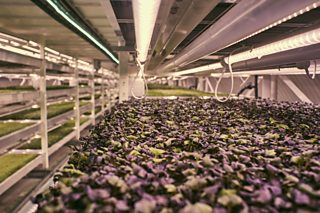 Thanks to a controlled environment their greens are unaffected by the weather and seasonal changes, and their central London location reduces the need to import crops and drastically reduces the food miles for retailers and consumers.
Islander - Rathlin Kelp
Islander's kelp is grown in a Marine Conservation area off the Rathlin coastline. From starting off the kelp plants in our nursery to packing our fresh kelp products; it all takes place in their facility on Rathlin Island.
Once they harvest it from their organic farm the kelp is kept fresh and never dried. They blanch it to bring out its vibrant colour and remove unnecessary salt and then freeze it to allow for a one year shelf-life. Their kelp products include noodle cut, tagliatelle cut, salad cut, minced and whole leaf and they also make kelp pesto with over 60% kelp.
The Seed Co-operative
At the UK's community seed co-operative they grow seeds for everyone, and for the health and well being of people and planet. They are a community-owned seed company, not interested in seed biotechnology, or dominating the world's seed supply.
Instead, they believe passionately in breeding open pollinated seeds that everyone can grow, everyone can save for the next year, and everyone can afford because they believe all of our sustainable futures depend on protecting their genetic biodiversity.