Main content
Ben Garrod
Bones have a beautiful duality. They exist as both highly scientific and artistic at the same time which ultimately is what appeals to me
The skeleton holds the key to solving so many questions that exist in science and as an evolutionary biologist they are invaluable to me. At the collection stores of a museum recently, I passed a polar bear skeleton. In one glance at its foot I knew it was a young zoo animal, which had a poor diet and walked on concrete.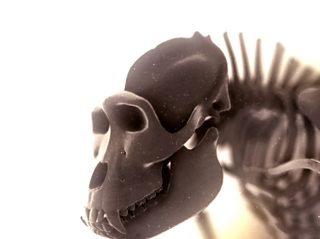 Each skeleton I see reaffirms just how revealing bones are

Ben Garrod
Each skeleton I see reaffirms just how revealing bones are.
I wanted this series to show bones in a new light. It had to be engaging, scientifically interesting and really accessible. The potential audience is mind-blowing for someone like me. When I lecture at university, there may be 60-70 listening; a public talk might draw several hundred, but a TV series has the potential to deliver science and the natural world to an audience of millions.
I had several favourite moments from the series:
Using a cherry picker to look at a sperm whale jaw in the Oxford Museum of Natural History was ingenious - the scale of the jaw really hit home from five metres up.
The moment I walked into the Paris Museum of Natural History for the first time was very special. Thousands of skeletons were all facing me, like some sort of osseous stampede. This was the most incredible display of skeletons I have ever seen in one place.
The weirdest moment was definitely printing a 3D copy of my own skull and meeting it for the first time!
Secrets of Bones offered me a great opportunity to become immersed in a passion of mine whilst being able to convey that to others. There's a certain amount of responsibility on the shoulders of a presenter too. The production team had worked so tirelessly and unbelievably hard, that more than anything I wanted them to be happy with the finished result.
What do I hope this series achieves? That's easy … I'd love to think that this series goes out and gets people interested and passionate about the natural world. If it changes even one person in this way, I'll be happy. If it happens to inspire a few more, I'll be even happier.