Main content
Judith Miller
Judith is a successful lecturer and author, having written over 100 books on the subject of antiques.
| Fact title | Fact data |
| --- | --- |
| Joined the Roadshow: | 2007 |
| Memorable find: | A set of Art Deco posters designed by Jean Dupas |
Unlike many of the Roadshow specialists, Judith's love of antiques did not start at an early age. A self-confessed child of the 'Formica generation', Judith didn't begin collecting antiques until the 1960s whilst a student at Edinburgh University. Fascinated by the inexpensive plates she bought in the city's junk stores, she began to research their history in books, auction catalogues, and at local antique fairs. She has since extended and reinforced her knowledge of antiques through international research.
In 1979, Judith co-founded the international bestseller Miller's Antiques Price Guide and has since written more than 100 books. Judith is a regular lecturer and she contributes to a number of national broadsheet newspapers and magazines. She also appears regularly on radio and television in Britain and the United States.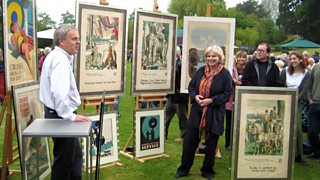 Judith has been working with the Antiques Roadshow 'Miscellaneous' team since 2007. One item that really stands out in that time was unearthed at Stanway House in 2009. It was a set of Art Deco posters designed by Jean Dupas and although Judith had used pictures of them regularly in her books, this was the first time she had seen any 'in the flesh'. If Judith could choose any item to turn up at a Roadshow, it would have to be something unquestionably connected to Bonnie Prince Charlie.
Outside Antiques, Judith enjoys playing bridge and travelling the world to see Bruce Springsteen in concert!