Main content
John Torode
Challenge: Taste of Tai Chi & Handstand
Update - John starts his Tai Chi challenge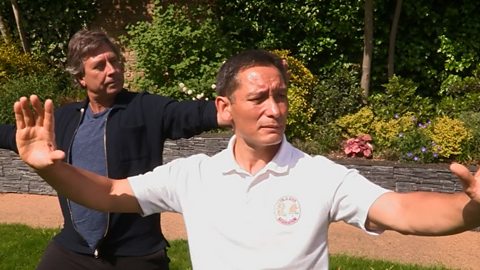 John gets some advice and tips ahead of his Taste of Tai Chi challenge
Name
John Torode
Age
50
From
London via Australia
I hope make your move will allow me to...
...be flexible and have good balance, and give me nice strong muscles in my tummy.
Why did you want to get involved in the campaign?
This campaign I think is really important because you need to stay physically fit as well as mentally fit, and the two go hand in hand.
Have you done anything to prepare for the Tai Chi Challenge?
I've done absolutely nothing for it in preparation, and do you know what, I'm fine about it, a little bit nervous, but I think it's going to be great.
Top 3 work out songs?
It could be Guns 'n' Roses; it could be ABBA; it could be a bit of Tchaikovsky — it depends what type of mood I'm in.
What is your motivational Mantra?
I'm pretty good at self motivation, I have to say, if I set myself a task, then I'm going to complete it. If you don't feel like it, do you know what, convince yourself, have a cup of tea and then go and get on with it.
Give us 3 words to describe how you feel about you taste of Tai Chi challenge?
Very, very excited.
Keep up with John and how he is getting on with his Tai Chi Challenge at #MakeYourMove on Twitter, Facebook and Instagram.
See the world from a different angle, just like you did when you were a kid.