Main content
Lilian Bellamy
Lilian likes a good time.
| Fact title | Fact data |
| --- | --- |
| Played by: | Sunny Ormonde |
| Born: | 8 July 1947 |
| Status: | |
| Occupation: | Property developer/bonne vivante |
| Lives at: | Dower House |
| Owns a share in: | The Bull |
Having spent many years as a tax exile on Guernsey, she burst back on to the Ambridge scene a merry widow with the express purpose of giving the village a good shake-up. Before the sun was even half way over the yardarm she could be found heading for The Bull or quaffing a G&T on the terrace.
Her relationship with Matt Crawford was tempestuous but she stuck with him - she was his Pusscat and he was her Tiger - even after Matt's time in prison for fraud. When they set up Amside Property Holdings, Matt thought Lilian would just be a front for his activities, but she insisted on having a full say in its affairs.
Did we say affairs? Unfortunately in 2012 she started one - with Matt's half brother Paul Morgan - until his sudden death six months later. The couple grew apart and a while later Matt left Lilian high and dry. After this lowpoint, Lilian regained her sparkle with the help of Justin Elliott.
Lilian and Justin's relationship has had its ups and downs; Justin was married to Miranda and a reappearance from Matt helped put a spanner in the works, but on December 22 2017 the couple finally vowed to stay together forever. They were all set to be married but decided that they don't need a piece of paper to prove their love. Fingers crossed!
Don't drown that gin, darling.

Lilian Bellamy
Likes - Smoking, drinking, hard partying
Dislikes - Orange juice, abstemiousness
Highs - Striking up her illicit affair with Justin
Lows - Paul's death, being cleaned out by Matt
Sunny Ormonde
Sunny Ormonde has played the outrageous and wayward Lilian Bellamy since 2000 and has loved every minute of it! Sunny was already a seasoned radio actress with well over 400 radio play credits to her name when she was asked to join The Archers cast, many of whom she had worked with on other projects.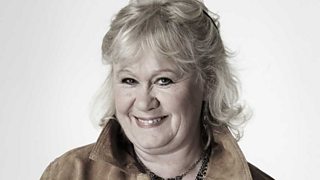 Kim Durham is an old friend and Sunny was thrilled when it was decided that Matt and Lilian would become an item on the show. They have had great fun with the Tiger and Pusscat storylines!
Aside from radio, Sunny is a prolific performer in other media. She trained at the Guildhall School of Music and Drama and has appeared in theatres the length and breadth of the country. Over the years her roles have been many and varied and she has appeared in theatres from Canterbury to Clwyd, Salisbury to Pitlochry.
Favourite roles have included Christopher in On The Razzle and Shirley Valentine – like Lilian, a woman who knows her own mind!
TV credits include Casualty, Waiting For God, Why Can't I Go Home?, Grange Hill, Life of Shakespeare, Hope It rains, Framed, Jupiter Moon and Brookside.
Sunny can often be seen performing in The Archers show Come Rain Come Shine, and she and Sara Coward (Caroline Sterling) perform a two-person show called Wicked Women.
Radio is a great love and she continues to enjoy work in this medium outside The Archers. Recent work has included Project Raphael, Death Of A Secret Wife, The Return Of The Native and the series Oddbody with Margaret Tyzack, Stephanie Cole and Annette Badland (Hazel Woolley).
Archers highlights
Hiding behind the knicker-rack in Underwoods

Sunny Ormonde
Getting drunk with Eddie in the cider shed, hiding behind the knicker-rack in Underwoods, causing havoc in the rehearsals of Snow White and the Seven Dwarves and any scenes with Matt - her Tiger. I loved the Costa Rica storyline. The writers were brilliant; we were able to plumb such emotional depths!
Favourite
Actor - Judi Dench, Meryl Streep, and Julie Walters - they are delicious and poetic performers, inhabiting and never demonstrating their characters; all three totally inspirational!
Book - Kahil Gibran's The Prophet. Comforting, inspirational - a great handbook for life. I have often reached for it for reassurance and guidance.
Film - Out Of Africa for its beauty and any Steve Martin film for the laughter. It's good to laugh!
THAT laugh, Paul, Matt, The Merry Widows' Club, and the secret of the perfect G&T...