Main content
Reverend Richard Coles
| Fact title | Fact data |
| --- | --- |
| Age | 55 |
| Profession | Vicar and broadcaster |
| Partner | |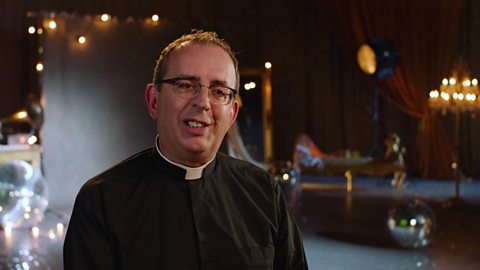 "To dress up a lot and be spray tanned... it's a burden I'll reluctantly shoulder."
He's ready to bow at the altar of Strictly, but will swapping bibles for the ballroom be Richard's new spiritual calling?
Call that bling? You should see what I wear for Midnight Mass
Often hailed as Britain's most famous vicar, many forget that Richard Coles has quite the musical past. In his late teens, he moved from Northamptonshire to London to work as a session musician in the theatre, where he met future collaborator Jimmy Sommerville.
The pair sashayed into showbiz in the 1980s as pop outfit The Communards, with Richard flexing his musical talents on the saxophone, clarinet and keyboard. It was here, in the world of 80s pop where Richard would first encounter a Strictly legend ­– Bruno Tonioli, who choreographed the band's video for Never Can Say Goodbye.
After several number one hits and some whirlwind years in the music biz, Richard swapped the pop star life for priesthood, snapping up a Theology degree at King's College London in the early 90s.
By 2005 he'd been ordained into the Anglican faith and he hasn't looked back since. He's even the inspiration behind the lead character of BBC comedy Rev, on which he also served as a main advisor.
But despite his dabbles with showbiz, Richard claims he's not got a head start when it comes to owning the Strictly dancefloor. "I once did the running man in a nightclub but I fell off the podium," which probably explains why his prediction is that he'll go as far as "Blackpool... A&E" this series.
While smooth moves may not be his strong point, he is looking forward to a few things about his Strictly debut, including "learning new things, spending time with new people and having an excuse for a spray tan."