Main content
Connie Beauchamp
| Fact title | Fact data |
| --- | --- |
| Arrival: | 29th March 2014 |
| Position: | Consultant and Clinical Lead in Emergency Medicine |

Connie is the ultimate alpha female – she's a strong leader, a brilliant clinician and takes no prisoners. Some may say she's cold and heartless, but everything Connie does is driven by her desire to provide impeccable patient care after she watched her father die on a trolley in a corridor of an ED – a fact that forever haunts her. With her at the helm, the ED is running more smoothly than ever.
Connie has had to fight to get to where she is today. Her grass-roots are Peckham, South London where her mother was a nurse and her father a teacher. Her talent pushed her to the reputable position that she held at Holby, something that she's not willing to let go of, especially now she's moved to the ED.
Connie has always put her work first; something which has jeopardised her relationship with her daughter, Grace, but deep down Connie is always striving to be a good mother.
Connie Facts:
Connie used to be the Clinical Lead for Cardiothoracic Surgery.
Connie volunteers at an MND support group.
Connie will rarely be seen in the staff room or the pub.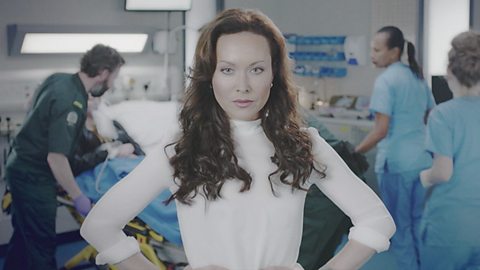 Connie Beauchamp is crossing over into a whole new world of drama at Holby ED very soon.