Main content
Norman
Norman is a true Scot and lives on the north east coast of Scotland. Now retired, Norman joined the Merchant Navy at the age of 19 where he worked as a radio operator and travelled the world. He describes one of his proudest moments as being when he fell overboard three miles off the Solomon Islands in the South Pacific and swam to shore, only to be picked up by an inter-Island cruiser near Papua New Guinea. Norman met his wife, Iris, on shore leave. They married at the age of 21 and have been together for 44 years. His love for her and their three children is rivalled only by his feelings for his pet schnauzer Lucy and for his caravan. Norman plays the clarinet and makes clocks and pottery in his own kiln, which he's installed in a studio at home. He works in slab pottery and creates small sculptures from clay.
Norman's father and brother were bakers, but he didn't want that lifestyle for himself. However, he would like to bring back traditional Scottish recipes and has contacted some of his father's old apprentices to revive some of the more traditional Scottish bakes that he fears are being lost. Despite being fiercely Scottish, he takes his caravan to Perpignan in France and some of his baking is inspired by French patisserie. Norman cultivates his own yeast starters to make bread and also uses it to brew his own beer and wine.
Norman in his own words...
When did you get into baking?

I started making pancakes around nine years old, more seriously after getting married and even more seriously when I retired.
What sets you apart from other bakers?
Halitosis
Why did you apply to be on The Great British Bake Off?
I thought it would be a laugh and it was – I thoroughly enjoyed my time at the GBBO tent – great company.
Have you had any baking disasters?
As an amateur baker one has disasters frequently, usually when trying out something new, but as they say; 'the man who never made a mistake, never made anything!'
The secret to home baking is, I think, being able to start over when you do mess up – usually on a weekly basis. You waste a lot, but it still works out cheaper than shop-bought and is usually tastier.
What's your favourite thing to bake?
Bread – I do a bloomer two to three times per week; it's quick, easy and costs less than 60p a time, plus the fuel cost, of course.
Who is scarier, Mary or Paul?
I don't find any of the two particularily scary; Paul is a master baker and a perfectionist and as such he is not going to tolerate anything that doesn't meet his exacting standards. I know this as my own father was a baker – most of what I bake he'd probably have binned. Mary of course is nothing less than a warm and wonderful human being; I can't imagine her ever being scary in the slightest.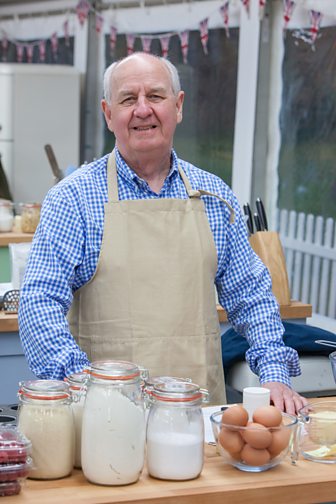 More from The Great British Bake Off