Main content
BBC Cardiff Singer of the World competitor
Wang Lifu comes from Shandong Province and is currently a member of the master's programme at the Shanghai Conservatory of Music, having received his bachelor's degree there in 2010. His main teacher is Professor Chen Xing and he is also coached by Jin Ling.
He was also a member of the Zhou Xiaoyan International Opera Centre in Shanghai in 2008. Lifu was awarded the first prize in the Higher Education Operatic Competition in China in 2007 and a Special Award, Excellent Art Talents in Shanghai in 2008.
Lifu has participated in master classes given by Andreas Schmidt and Renato Bruson (in Shanghai), Robert Holl and Rudolf Piernay (in Vienna) and Edith Bers (in Hong Kong). He has also taken part in the Schleswig-Holstein Music Festival in Germany.
He has performed the title role in Le nozze di Figaro, Qiu Hu in the Chinese opera Wild Land and has recently sung the baritone solo in Walton's Belshazzar's Feast in Shanghai. Operatic roles in preparation include Guglielmo Così fan tutte and the title roles in Giulio Cesare and Don Giovanni.
Lifu enjoys watching films and listening to music.
BBC Cardiff Singer of the World 2011: concert two repertoire
Hai già vinta la causa ... Vedrò mentr'io sospiro (Le nozze di Figaro) - Mozart
Der Tamboursg'sell (Sieben Lieder aus letzter Zeit No 2) - Mahler
Per me giunto ... Io morrò (Don Carlo) - Verdi
BBC Cardiff Singer of the World Song Prize 2011: recital two repertoire
Der Müller und der Bach (Die schöne Müllerin No 19) - Schubert
La vie antérieure - Duparc
V molchan'ji nochi taynoy (Op 4 No 3) - Rakhmaninov
Herr Oluf (Op 2 No 2) - Loewe
Clips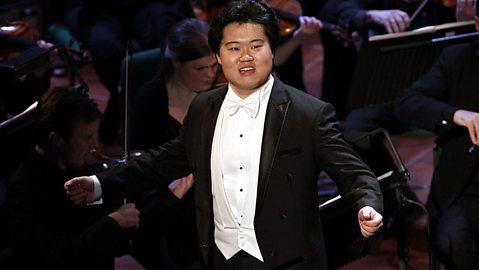 Wang Lifu from China sings Hai già vinta la causa ... Vedrò mentr'io sospiro from Mozart's Le nozze di Figaro