Main content
Profile: Cameron Mackay
Cameron's film goes behind the scenes on an Arctic expedition.
Why did you pick this subject for Fresh?
Environmental issues are so important to society and none more so than climate change. It is something that a lot of people are aware of and more action must be taken on it. To communicate this issue to the general public I feel that young people have a big role to play. Young people can provide a relatable and engaging communication point that offers more people opportunities to connect with the issue. Because of this, I thought that it would fit BBC Three's audience and remit of sharing young people's stories. Hopefully, this can provide a youth-driven communication point about environmental issues that can really engage with the younger generation.
I learned to approach the filming with an open mind and to change plans based on what we discovered
What motivated you to make this film?
After going on an expedition to the Himalayas in 2013 with the British Exploring Society, I had gained an understanding of how drastically people are being affected by the changing climate. However, I saw that not many people had the same views so wanted to create a document that could share this with people in a relatable way. At the same time, I had begun to organise an expedition to Greenland with a friend at university so the two naturally came together.
The original aim was to create a film that would share the stories of the people and landscape in the Arctic and how badly climate change was affecting them. However, as we saw that the people of Greenland were having positive experiences of climate change, the meaning of the film changed completely. I became much more motivated to film and edit all of our footage together as I had seen that the issue was not simply melting ice, it was that there are so many different viewpoints of climate change around the world. The film could show people that, to move forwards, we need to connect people in different countries to create a unified response and a shared understanding of the issue of climate change. Also, after putting so much work into the expedition itself, I was really driven to show people what we had discovered in the process.
What equipment did you use to shoot the film?
The main camera used was a Nikon D7100 with a 18-105 mm VR Telephoto Zoom Lens. I used this connected to a Røde VideoMic Pro for sound. The time-lapse sequences of the glaciers were shot using five donated Wingscapes TimelapseCam cameras. The aerial footage was captured using a GoPro camera connected to a Steadidrone QU4D quad-copter. To charge the DSLR camera in the remote environment, a Power Monkey solar charger was used.
Tell us about post-production.
I used Final Cut Pro to do all of the editing. First, I collated a timeline of all the shots to be used. After that I mixed the sound, linking all of the clips together and editing out all of our mistakes and fumbles! I tried to tie the music in throughout the edit to enhance the message I was trying to convey. Finally, I added the titles and some stills and tidied up the whole cut. Having never studied or used editing software before, I was doing everything for the first time and it was a massive learning process!
Who/what inspires you?
The biggest inspirations behind this film and all the work that I have done are people who use creative methods to communicate environmental issues. One person to do this was James Balog, whose work was featured in a recent film called Chasing Ice, which used much longer-term time-lapse cameras than we used to show the impact of climate change on the changing landscape. After watching filmmakers such as Gordon Buchanan work behind numerous BBC productions and share unique stories about their own work, I was keen to use the same approach to our research. Seeing so many other youth expeditions carry out valuable research and communicate new findings from their studies, I felt driven to share our own story and communicate the discoveries we had made in Greenland to others.
What are your plans for the future?
I am currently planning bigger projects, based on the feedback from the Greenland film that involve more young people in communicating their own stories from exploring the changing planet. I am currently a second year undergraduate student of Geography (BSc) at the University of Glasgow. When I finish my degree, I am really interested to explore ways of linking young people with expeditions to create resources for education systems and the general public that will inspire further action and create a shared understanding of climate change.
What is the most important thing you have learned so far?
The only thing you can be sure of on any project, especially expeditions, is change. To get what I needed to create this film, I needed to adapt to all the opposing factors we faced in Greenland. With documentary filmmaking, I don't think you can storyboard and script all of it. I learned to approach the filming with an open mind and to change plans based on what we discovered in the Arctic. With research, you can never know what you will ultimately find. When trying to film our journey, the production elements needed to be as prepared for change as the expedition itself.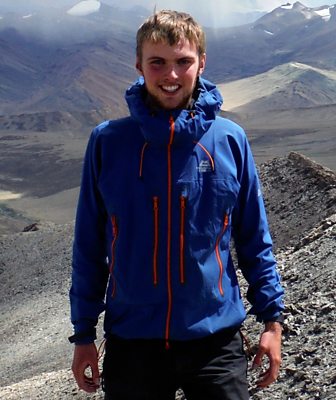 (L-R) Solveig, Jannis & Emma