Main content
BBC Cardiff Singer of the World competitor
Sasha Djihanian graduated from the Montreal Music Conservatory with First Prize with Great Distinction. In the summers of 2008-2010 she attended the Chautauqua Music Festival (New York) where she worked with Craig Rutenberg, Brian Zieger and Neil Shicoff among others.
She was awarded the Bohuslav Martinů prize at the Czech and Slovak International Voice Competition in 2009 and was a National Finalist in the 2011 Metropolitan Opera National Council Auditions, having been awarded first prize in the district, regional and semi-final rounds.
In 2009, Sasha had her debut with the Opéra de Montréal as Second Boy Die Zauberflöte. Her operatic repertoire includes Musetta La bohème, Suor Infermiera Suor Angelica, Thérèse Les mamelles de Tirésias, Concepcion L'heure Espagnole, the Fire and the Squirrel L'enfant et les sortilèges and the Cook Rossignol. Since 2007, she has participated in several children's operas for Opéra-Théâtre Voxpopuli.
Concert performances include Bach's St Matthew Passion, Handel's Messiah, Haydn's Die Schöpfung, Mozart's Requiem, Mendelssohn's Elijah, Brahms's German Requiem, Schubert's Mass in G, and Saint-Saëns's Christmas Oratorio. Sasha's future engagements include Susanna Le nozze di Figaro, Vivaldi's Gloria and a recital at Maison Trestler, Quebec.
In her spare time, Sasha enjoys cooking, reading and yoga.
BBC Cardiff Singer of the World 2011: concert two repertoire
Da tempeste (Giulio Cesare) - Handel
Ach, ich fühl's (Die Zauberflöte) - Mozart
Me voilà seule ... Comme autrefois (Les pêcheurs de perles) - Bizet
BBC Cardiff Singer of the World Song Prize 2011: recital one repertoire
V tak mnohém srdci mrtvo jest (Op 83 No 2) - Dvořák
Ó byl to krásný zlatý sen (Op 2 No 2) - Dvořák
Thy dark eyes to mine (Three poems of Fiona Macleod Op 11 No 2) - Charles T Griffes
Ständchen (Op 17 No 2) - R Strauss
Chère nuit - Alfred Bachelet
Clips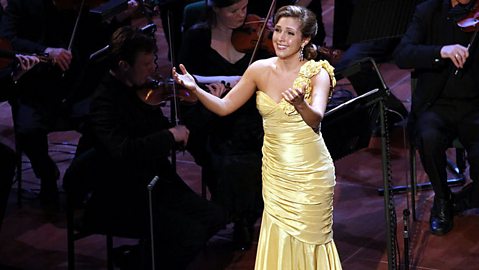 Sasha Djihanian from Canada sings Ach, ich fühl's from Mozart's Die Zauberflöte.