Main content
Richard and Elizabeth
When Richard Burton and Elizabeth Taylor met on the set of Cleopatra in Italy in 1961, the attraction was immediate.
They were both married to other people at the time – Richard to his wife of many years, Sybil, and Elizabeth to Eddie Fisher. Elizabeth later said that she had made up her mind not to fall for Richard but on the first day of filming Richard was hung over. Elizabeth felt sorry for him and a bond was made. Word got out that they were an item and soon Rome's paparazzi were tracking their every move.
News of Richard and Elizabeth's affair made headline news around the world. This was the end of the age when Hollywood had been able to control its stars and the press coverage they received and the public were scandalised and fascinated by the affair in equal measure. The coverage reached fever pitch when the Vatican issued a statement denouncing Taylor for her 'erotic vagrancy'.
Richard and Elizabeth eventually went public about their romance. They married in 1964 and the public interest in their relationship did not diminish after their marriage. Their lavish lifestyle, private planes, jewellery and yachts, helped to cement their position as one of the most famous couples on the planet. One of Richard's most extravagant gifts to Elizabeth was the sixty-nine carat pear shaped diamond that came to be known as the Burton-Taylor diamond. Burton is reputed to have paid $1.1 million for the diamond in 1969. The couple appeared in many films together over the next ten years, most notably The VIPs, Who's Afraid of Virginia Wolf, The Tempest and Dr Faustus.
Richard and Elizabeth had always been known for their frequent break ups and extravagant reunions but the strains of living in the public eye eventually caught up with them. They divorced 1974 but they quickly found it difficult to live apart and married for the second time eighteen months later in 1975. Richard and Elizabeth divorced for the second and final time just under a year later in July 1976. They both went on to marry other people. Richard married Susan Hunt, a model, in August 1976 and Elizabeth married John Warner, a US senator in December 1976.
Richard and Elizabeth divorced their respective partners in 1982 and in September that same year, they announced that they would reunite professionally in a production of Noel Coward's Private Lives. The premiere was in April 1983 and they spent seven months touring America. During the run Richard married his fiancée Sally Hay.
When the tour was over Richard returned home to Switzerland with Sally. Richard and Elizabeth often spoke on the phone in the following months but they were only to meet again once before Richard died of a cerebral haematoma in August 1984. Elizabeth died at the age of 79 in 2012.
Helena Bonham Carter
Helena Bonham Carter is one of Britain's best loved actresses. She has worked with some of the biggest names in Hollywood and has won many awards including a BAFTA.
Helena recently appeared in the epic musical drama Les Miserables (2012). She played Mme. Thenardier in a brilliantly comic performance alongside Sasha Baron Cohen. She is also well known for the role of Bellatrix Lestrange in the final four Harry Potter films.
In 1985 A Room With A View introduced Helena to an international audience. She went on to play Don Jonson's girlfriend in the hit television series Miami Vice in 1987. Other well-known films include Howard's End (1992) and Mary Shelly's Frankenstein (1994). In 1997 The Wings of the Dove won Helena Oscar, BAFTA and Golden Globe nominations for best actress. She has also appeared in Fight Club (1999), Planet of The Apes (2001)and Alice in Wonderland (2010).
In 2010 Helena appeared in the multi award-winning film, The King's Speech. Helena's portrayal of Queen Elizabeth, the Queen Mother earned her a BAFTA for Best Supporting Actress.
Dominic West
Dominic West has appeared in many award-winning television shows in both the UK and the US. In the UK he appeared in the critically acclaimed mini-series Appropriate Adult. Dominic's performance earned him a BAFTA for Best Actor. He is also known for the role of Hector Madden in The Hour. In 2008, Dominic played Oliver Cromwell in the BAFTA-nominated series The Devil's Whore.
In the US, Dominic is best known for playing McNulty in the critically acclaimed series The Wire. The show ran for five seasons and Dominic was praised, among other things, for perfecting the Baltimore accent. Dominic directed an episode in the final season.
Dominic also has a successful career in film and theatre. His film roles include: 28 Days opposite Sandra Bullock; Mona Lisa's Smile, with Julia Roberts; and The Forgotten, with Julianne Moore. He also starred as Theron in 300.
On stage, Dominic has appeared in Pedro Calderon de la Barca's Life Is a Dream at the Donmar Warehouse. He took the title role in Butley at the Duchess Theatre and appeared in Othello at the Crucible Theatre in his home town, Sheffield. Dominic began 2013 by returning to the Crucible to appear in My Fair Lady.
Clips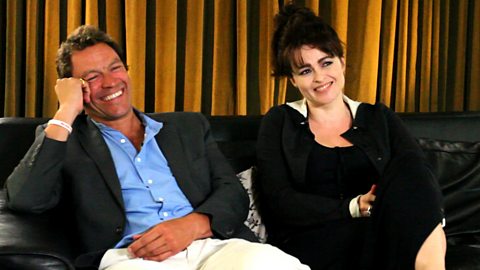 Dominic and Helena talk about what attracted them to the roles of Burton and Taylor.