Main content
Jacob Rees-Mogg
The Hon Jacob Rees-Mogg MP has represented North East Somerset, where his family has lived for 5 centuries, for the Conservatives since 2010.
The son of former Times editor Lord Rees-Mogg, Jacob attended Eton and Oxford but has since made his own way in life, founding £3.4 billion investment company Somerset Capital Management.
He certainly knows how to make an impact: whether canvassing voters accompanied by his Nanny, calling for closer dialogue with UKIP, espousing the virtues of zero hour contracts or knocking 'em dead on Have I Got News For You?
He's been described as 'David Cameron's worst nightmare': will it be sleepless nights for us too?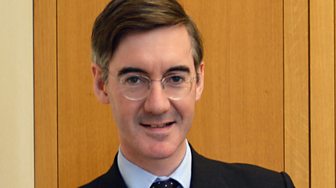 Past panellist

Past panellist

Past panellist

Past panellist

Past panellist

PAST PANELLIST

PAST PANELLIST

PAST PANELLIST

PAST PANELLIST

PAST PANELLIST

PAST PANELLIST

PAST PANELLIST

PAST PANELLIST

PAST PANELLIST

PAST PANELLIST

PAST PANELLIST

PAST PANELLIST

PAST PANELLIST

Past Panellist

Past Panellist

Past Panellist

Past Panellist

PAST PANELLIST

PAST PANELLIST

PAST PANELLIST

PAST PANELLIST

PAST PANELLIST

PAST PANELLIST

PAST PANELLIST

PAST PANELLIST

PAST PANELLIST

PAST PANELLIST

PAST PANELLIST

PAST PANELLIST