Main content
Oti Mabuse
You probably recognise South African ballroom star Oti Mabuse from bringing Saturday nights to life on Strictly Come Dancing.
Showing that she has the passion and drive to teach anyone how to dance, she's been partnered with boxer Anthony Ogogo, soap star Danny Mac (with whom she ended up in 2nd place), Paralympian Jonnie Peacock and most recently England cricketer Graeme Swann.
Born in Pretoria, Oti has been dancing since she was a young child with sister Motsi (who is also a professional dancer) - passion for dance is in their blood!
However, you may not know that despite a natural flair for dance, she studied Civil Engineering at University. But realising this wasn't the career path for her, Oti moved to Germany in search of new dancing challenges.
A smart move, we'd say!
She's achieved many titles in her career, including a third place in the World Cup Freestyle Latin in 2014, second place in the European Championship 2014, and a first place in the German Championship Freestyle Latin competition.
Wanna know more about this hip-shaking superstar?
Find out what makes her tick in this Q&A…
Q. What's the first song you remember dancing to?
'Let's Get Loud' by Jennifer López. It's a Cha Cha
Q. Who or what's your biggest dance inspiration?
I'm inspired by other female dancers, being around people who are passionate about their jobs. Growing up my sisters were my only inspiration. My mom pushed them to do their best and they always did their best.
Q. Who would be your dream dance partner?
Bryan Watson... a brilliant, brilliantly talented world champion
Q. What's the best thing about being a Dance Captain?
I get to work with extremely talented dancers. I also get to push and help the first ever contestants of this show
Q. How has dance changed your life?
I have everything because of dancing. It's who I am and it makes me happy more than people can imagine.
Q. How has dance influenced other areas of your life i.e. your style?
Well unexpectedly I'm not a big fan of big and perfect hair and makeup. My style at home is very casual, no makeup and no glam at all
Q. What's the greatest thing about dance?
The way you feel when you dance and get to express yourself
Q. And finally, what would be your last dance?
Anything by Beyoncé
Would you rather Charleston?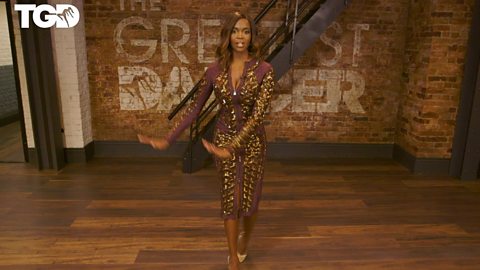 Dance Captain and Strictly Come Dancing star Oti Mabuse teaches us how to Charleston.