Main content
Twinkling with bonhomie and profoundly self-satisfied, Howard is 70 years old and is married to Shirley, father to Miles and grandfather to the twins Lexie and Lara. Chairman of the Parish Council and The King of Pagford - or so he thinks - he heads up the faction that wants to see an end to the Legacy.
Howard regards Sweetlove House, which houses the projects run by the Legacy, as a ghastly eyesore. He is also in the pocket of Aubrey and Julia Sweetlove, Pagford's local gentry, who want to sell Sweetlove House to developers for a large profit. Howard owns and runs Mollison's Delicatessen, and is also opening a café next door with his business partner Mo.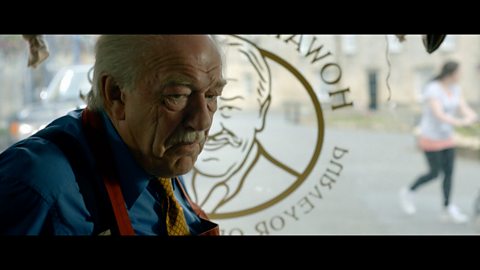 News of Barry's death spreads like wildfire and Samantha gives Miles a stark warning.
About Michael Gambon
Michael Gambon began his career with the Edwards / MacLiammoir Gate Theatre, Dublin. He has since become one of Britain's most celebrated actors of both stage and screen.
Recent credits for television work include Lucan, The Lost Prince, Common, Emma and Cranford, Joe's Palace and Angels In America (both HBO), and Wives And Daughters,for which he received a BAFTA Award for Best Actor and a Royal Television Society Award for Best Actor.
Michael has recently appeared in a number of critically acclaimed films, including Quartet, the Harry Potter franchise, The King's Speech, Brideshead Revisited, The Good Shepherd and The Life Aquatic with Steve Zissou.
Michael's work in theatre includes All That Fall, Krapp's Last Tape, No Man's Land for which he gained an Olivier Award nomination for Best Actor, and Henry IV Parts I And II at the NT Olivier Theatre.