Main content
Noel Garcia
| Fact title | Fact data |
| --- | --- |
| Arrival: | 5th January 2008 |
| Position: | Receptionist |
Noel is the happy, care-free, practical joker of the bunch. Very much a people person, he's very proud of his job on reception, and gets frustrated when people don't take him or his job seriously. He's incredibly unlucky in life and love, but always bursting with optimism and positivity. He's a child at heart, but learnt how to take responsibility when his long-lost daughter Honey came back into his life.
Even if he may lose the odd patient file or forget a patient's name, you can't fault his friendliness and enthusiasm, and he's always the face you want to be greeted by when you first walk through the ED doors.
Noel Facts:
Noel was devastated when he found out his father suffered from dementia and no longer recognised him.
He's an avid collector of action figures.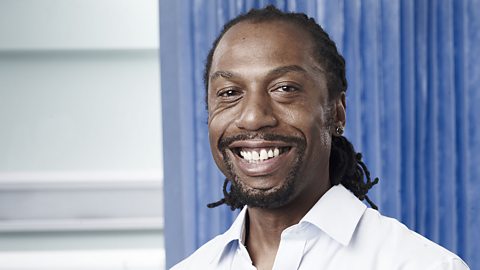 Noel is incredibly unlucky in life and love, but full of optimism and positivity.