Main content
South Korea: Jeongcheol Cha
Bass-baritone - born 1981
Jeongcheol Cha studied in his home town of Seoul, then at Bard College Conservatory and is currently on the Artist Diploma in Opera Studies programme at The Juilliard School, studying with Marlena Malas. Jeongcheol's recent accolades include winning the Metropolitan Opera National Council Auditions (Boston District, 2011) and the Connecticut Opera Guild Competition (2012), as well as being awarded a full scholarship to the 2012 Chautauqua Institution Music Festival and the Villecruze Academy in France.
In 2010, he performed in the Dawn Upshaw and Dennacha Dennehy Young Artists' Concert at Carnegie Hall. At the Bard Conservatory's Fisher Center, Jeongcheol performed the role of Prince Gabriel III in the world premiere of David T Little's Vinkensport. At Juilliard, he has performed the title role in Don Giovanni, Wu Tianshi in the American premiere of Sir Peter Maxwell Davies' Kommilitonen! and Germano La scala di seta. He also performed the roles of Dulcamara L'elisir d'amore at Fletcher Music Hall in Chautauqua and Leporello Don Giovanni and Monk Don Carlo with Seoul City Opera. Future plans include Yamadori Madama Butterfly and Watchman #2 Die Frau ohne Schatten at the Metropolitan Opera, New York.
Jeongcheol enjoys the cinema and watching opera DVDs.
Song prize recital four repertoire
Wohl denk ich oft (3 Michelangelo Lieder) – Wolf
Alles endet, was entstehet (3 Michelangelo Lieder) – Wolf
Fühlt meine Seele (3 Michelangelo Lieder) – Wolf
Don Juan's serenade – Tchaikovsky
Quand la flamme de l'amour (La jolie fille de Perth) – Bizet
Ralph is apprentice to the glove maker and in love with his daughter, Catherine, who prefers the attentions of Smith, the armourer. Drunk, Ralph sings this lugubrious lament. To extinguish the flames of his unrequited love, he laughs, sings and drinks. He calls for the landlady to refill his glass, to help him forget his unhappiness.
Sorge infausta una procella (Orlando) – Handel
Orlando was first performed in London in 1733 – then not again until 1966. The libretto is adapted from Ludovio Ariosto's Orlando Furioso. A great soldier in Charlemagne's army falls hopelessly in love with the pagan princess Angelica. She rejects him for another man and, crazed with love, he threatens carnage. Here, the magician, Zoroastro, reminds Orlando that reason is often destroyed by love. He describes the calm after a storm and predicts Orlando's eventual return to sanity.
Ves' tobor spit (Aleko) - Rakhmaninov
Aleko has run away from his family to join a band of gypsies. He has fallen in love with Zemfira, but she has now grown tired of him and has taken a new lover. In Aleko's cavatina, he sings of his misfortune in love.
Clips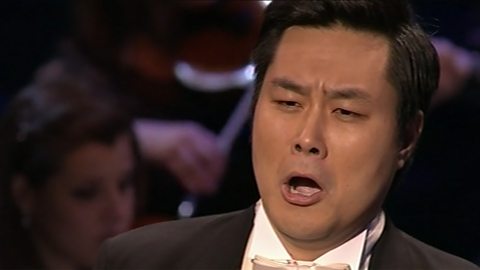 Jeongcheol Cha from South Korea sings in concert four.