Main content
Jennifer Aldridge
Jennifer may despair of Lilian's wild behaviour, but her past is more chequered than her wayward sister's…
| Fact title | Fact data |
| --- | --- |
| Played by: | Angela Piper |
| Born: | 07 January 1945 |
| Status: | |
| Occupation: | Housewife |
| Lives at: | Willow Cottage |
As the wife of Brian Aldridge, Jennifer may seem the pinnacle of respectability. But she once raised more eyebrows than her younger sister Lilian could ever dream of.
A dalliance with local cowman Paddy Redmond led to an illegitimate pregnancy and the birth of son Adam. The shockwaves were so great that she left Ambridge, but returned shortly after with baby Adam in tow and took up with Lilian's ex-boyfriend Roger Travers-Macy, whom she married. Daughter Debbie followed shortly after.
Her marriage with Roger was failing when she met wealthy landowner Brian Aldridge at a dinner party held by Carol Tregorran. They married as soon as her divorce came through. Brian had a roving eye… but so did Jenny. She grew close to John Tregorran and had an affair with her ex, Roger. It was Brian's affair with Siobhan which led to the birth of Ruairi that shook the marriage to the core. Jennifer forgave Brian and when Siobhan died, she agreed to take on Ruairi.
With their infidelities behind them, Jennifer and Brian now have one of the strongest marriages in Ambridge. Nevertheless it continues to be tested: Jennifer's had to adjust to a more bijout living arrangement (and say goodbye to her fabulous kitchen) with the sale of the Home Farm farm house to cope with the financial fallout from the toxic contamination that leaked from Brian's land.
I'm just popping out to Underwoods, darling…

Jennifer Aldridge
Likes: Cooking, bragging about her children's successes.
Dislikes: Anything that endangers her social status, Brian and Adam's rows.
Highs: Phoebe getting into Oxford, whenever the entire family gets together.
Key relationships
Lynda Snell (Friend and sometimes foe) - they jointly run the Ambridge village website
Carol Tregorran (Foe) - Jennifer was once very close to Carol's husband John (now deceased)
Angela on Jennifer
Capable, caring, family-oriented, well-groomed and more intelligent than many are prepared to admit. And I always say "under the cashmere beats a heart of gold".
Angela Piper
Angela was born in Melbourne: it's the "original" in rural Derbyshire, the place after which the Australian city was named. Her father was a schoolteacher in Derby and her mother was President of the local WI, arranging festivals and harvest suppers, and very much at the heart of village life.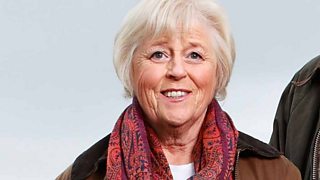 The young Angela used to play in the attic of her grandparents' large and beautiful home in Melbourne, where, with her cousins, she was allowed to dress up in the contents of a collection of old steamer trunks which housed all sorts of old treasures. She recalls climbing into a high tree with a favourite book to escape through reading, and equally vividly remembers her first encounter with the world of stage.
Angela was taken by her parents to the Derby Theatre to see a production of Die Fledermaus. The waft from the wings as the curtain drew open to reveal the stage, and the vivid and extravagant concentration of colour, in what was still a very drab post-war world, captivated her. The sharpening of the senses which it caused is something she remembers as one of childhood's most poignant sensations.
Even so, it was medicine rather than drama or music to which she thought she would turn for a career. Then Angela met the celebrated radio producer Alfred Bradley, who also worked in education in the East Midlands. At his insistence she applied to, and was accepted by, the Royal Academy of Music on a course which, to satisfy her parents, ensured that she would have teaching qualification at the end of her studies.
She was in fact sufficiently successful to be awarded the Academy's Shakespeare Prize and Broadcast Prize, and went into Repertory Theatre with other actors who were already established in The Archers.
Then Angela's own chance with The Archers arose; the actress who played Jennifer decided to leave to join Emergency Ward Ten. Angela was offered the role, unaware that the programme's producers had long-term - and by 1960s standards - controversial plans for the character, including the birth of an illegitimate baby (Adam). Angela recalls the story-line caused shock and outrage; the BBC's Director General had to be consulted, and graffiti accusing Doris Archer of being a prude appeared on Waterloo Bridge!
It was a world away from Angela's earlier work, presenting Playschool, doing voice-overs for TV commercials, and adjudicating at festivals of speech and drama. For a couple of years she also read letters for Barry Took on Points of View, although that came to an abrupt end when several sharp-eared viewers wondered why the wealthy Jennifer Aldridge needed to earn a crust to subsidise her housekeeping! Angela also found time to take leading roles in the TV comedy series Life Begins at Forty and Third Time Lucky with Derek Nimmo.
Meanwhile, back in Ambridge, her character's pregnancy coincided with her own. Angela married BBC news reader Peter Bolgar around the time she joined The Archers, and as Jennifer was coping with the rigours of morning sickness in Ambridge, Angela realised she too was expecting a baby. Angela and Peter now have three children: an architect, a doctor and financier. They also have three young grandchildren.
The parallels helped Angela cope with becoming a mother, and the sense of continuity and family life are among the reasons she believes that The Archers retains and increases its popularity. She likens the programme to a basic cake mixture: the mixture stays the same, but different ingredients can be added to vary the staple.
Angela is the author of two books about The Archers written "in character". Jennifer was a writer, and had a novel published. This prompted Angela to think that by drawing on her own love of cooking and country life, she could devise a book which would invite devotees of The Archers to step into the kitchen of a typical English village home.
Her efforts to create this tangible atmosphere were sufficiently successful for "Jennifer Aldridge's Cookbook" to sell 40,000 copies. Jars of preserves produced to complement to book proved equally popular.
Angela also completed "The Archers' Pantry" which describes the characters in the recipes created for them. Through gentle humour, Angela invites readers to create their own 'Ambridge Preserves', 'Borsetshire Bakes' and 'Country Tarts'.
When not working, Angela spends her time tending her organically produced fruit and vegetables, her chickens and other livestock at the family home, a 17th century mill house near Saffron Walden on the Essex-Suffolk border.
Archers highlights
1960s: Illegitimate baby (Adam). Considered utterly shocking in those days. Also who was the father? The nation waited with bated breath - "Jennifer expects by permission of the Director General" was the headline in a national newspaper.
The nation waited with bated breath

Angela Piper
1990s: Affair with former husband. Roger Travers-Macy re-appeared on the scene leading to another emotional roller-coaster.
2000s: Brian's affair with Siobhan and the subsequent arrival of Ruairi. Scope for yet more challenging emotional scenes.
Other career highlights
1960's: Presenting Playschool
1980's: Comedy series "Life Begins at Forty" and "Third Time Lucky" for ITV.
Favourite
Actor - Judi Dench. Always admired her work since seeing her Juliet at the Old Vic in 1960.
Book - The Secret Garden by Frances Hodgson Burnett. As a child I was entranced by the magic of her evocative story telling.
Film - Disney's "Escape from the Dark", Alistair Sim's last film. Wonderful family entertainment in which three children save the pit ponies when the mines were first mechanised. My enjoyment clearly enhanced by my then eight year old son playing one of the lead roles.