Main content
Kate
Originally from Cambridgeshire, Kate now lives in Brighton with her five-year-old daughter Eloise. Kate trained as an actress and performed on stage for a couple of years before working in advertising and design agencies. Moving to Brighton to bring her daughter up, Kate started her own upholstery company which she runs from home, breathing new life into furniture with various textures and colours. Community-minded, every year Kate organises a street party and she loves to bake for her family – last year she made 15 Christmas cakes!
Sparky and full of beans, Kate is a creative baker and treats every bake as an experiment. She very rarely uses recipes or weighs ingredients. She once baked a life-sized Goldfinger Bond girl for her sister's 40th birthday and a full-sized 3D sculpture of her friend's head – all from cake.
Kate feels that cake is her strongest area, with pastry being her weakest. She bakes with her daughter, but admits that she is a terrible delegator in the kitchen. Following in her mother's culinary footsteps, Eloise likes to concoct her own recipes using various ingredients such as marmite and flour, which are not often edible!
Kate in her own words
When did you get into baking?
Baking has been a relatively recent addition to my life, I've always enjoyed cooking and baking was a natural progression for me.
Have you got any memories of baking as a child?
I was in charge of baking the rock cakes for my father as a child. No matter how they turned out he always loved them!
What sets you apart from other bakers?
I don't use recipes when I bake and therefore I don't mind too much when I make a mistake - it's all part of the process and, if there's no recipe, a mistake is really just a state of mind.
Why did you apply to be on The Great British Bake Off?
I was hounded into applying by a friend, so I did it to keep her quiet!
Have you had any baking disasters?
All the time but you can hide anything with a good bit of piping.
Who is scarier, Mary or Paul?
They both have their moments.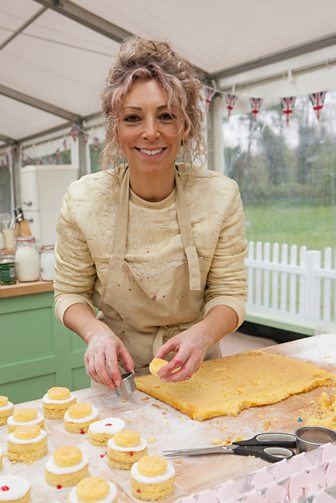 More from The Great British Bake Off