Main content
Carl White
A seductive charmer who was capable of doing whatever it takes to get what he wants...
| Fact title | Fact data |
| --- | --- |
| First appearance: | 20th June 2013 |
| Last appearance: | 1st January 2014 (deceased) |
| Occupation: | Ex-con |
Carl White was seductive, drawing people to him - especially women - with his understated charm. He could spin a line and fool everyone with ease. He understood people, read them quickly and knew what they wanted. He knew who had the power, who to make deals with, and of course, who to fight. He was really only waiting for his moment to turn the tables and take it all for himself. He just didn't feel for others like normal people.
I want my money...

Carl White
Although he got a kick out of power, Carl rarely indulged in fisticuffs. There was a sense of threat about him that he disguised expertly in everyday encounters, reserving the 'truth' for that special moment when he wanted something from someone and charm no longer suffices... Deep down, Carl was an angry man. He eyed everyone with suspicion, expecting them to eventually turn on him.
In his early 20s, Carl met Kirsty when she was barely 16. She was a wild, careless beauty and Carl soon became possessive. His relationship with her was based on hedonism and excess rather than the genuine tenderness she later found with Max. Soon after, Carl was sent to prison for five years, and after meeting Max, Kirsty realised how toxic her relationship with Carl actually was. She quickly ceased all contact. Carl no longer received prison visits and he eventually found his calls unreturned…
He was horrified to realise that his own brother, Adam, had let Max snap up Kirsty when he had been inside, as well as letting their mum end up in a nursing home.
Once out of prison, Carl was looking for a new life. With the possibility of Ian's cash on tap, after he squandered the money that was owed to him on Scarlett's, and Kirsty back on the horizon, he saw the glimmers of a life forming in Albert Square and a chance that he might steal the title of 'King of Walford' from Phil. Already he'd managed to pull Phil into a dodgy job, which ended badly when the car he was driving crashed and hospitalised Phil. The true cause of the crash was yet to be discovered, although given Carl's history it was sure not to be as clean cut as originally thought. Determined to get his wife back, Carl framed Max for the car crash, claiming Max had tampered with his brakes. And with the help of Ian and his false statement to the police, it wasn't long before Max was arrested.
With Max in prison, Phil in hospital and Ian lying for him, everything seemed to be going to plan for Carl. But before he could get his hands on Phil's businesses and ex-wife Kirsty, Shirley threatened to rumble his plan. Face to face in the Arches they finally confronted each other. But what really happened behind the Arches' door? Did Carl take care of his problem..?
With Shirley seemingly disposed of, Ronnie quickly stepped into her place, and proved a formidable opponent to Carl who was determined on muscling his way into all of Phil's businesses. But as a Mitchell, Phil was never going to take it lying down and discharged himself from hospital, taking his empire back from Carl in the process.
But Carl wasn't too fussed as he still had Max in prison and even managed to bed his wife. Although it didn't come cheap, as Kirsty stole a grand from him when she thought he was sleeping. But Kirsty should have known that nothing gets past conniving Carl. However, with Ian wavering in his agreement to testify against Max, Carl had another battle to take on. So when Peter tried to step in, Carl left him battered and bruised as a reminder to Ian to turn up to court. But Carl didn't bank on David foiling his plan, who managed to, with the help of Phil, prevent Ian from turning up to court.
So when Max was released, he wasted no time in seeking his revenge on Car. With the help of Phil, they kidnapped Carl and took him to a remote spot to get rid of him once and for all. But when Max decided he wasn't worth it, Phil stepped in to finish the deed. However, Carl had an ace up his sleeve, revealing to Phil that if he killed him he would never find out what happened to Shirley. He eventually took Phil to Shirley where the two were reunited, but when Phil told him their feud wasn't over, Carl reminded him that he had friends that could get to Ben – that put Phil back in his place.
With Carl back to his smug self, he wasted no time in bragging to Max about his night of passion with his wife – naughty, naughty! He even managed to bag a new babe in the form of Roxy, being her rebound after she was jilted by Alfie. Unsurprisingly, her sister wasn't happy, but Carl didn't care, he was unstoppable.
But Ronnie wasn't to be messed with. So when Carl took things too far and attacked her in the flat, Ronnie repaid him with a champagne bottle to the head...
On New Year's Day things came to a final end for Carl, as Ronnie went even further and scrapped a car - with him in it!
Played by Daniel Coonan
Clips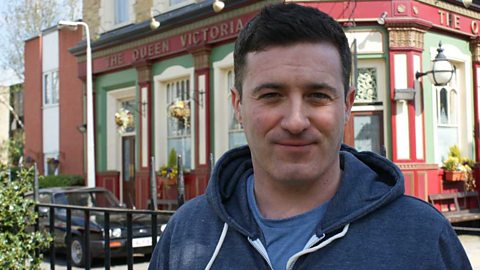 Meet our new villain Carl. He's a charmer who'll do whatever it takes to get what he wants