Main content
Jill Archer
A loving but controlling matriarch, Jill still rules the roost at Brookfield.
| Fact title | Fact data |
| --- | --- |
| Played by: | Patricia Greene |
| Born: | 3 October 1930 |
| Status: | Widow |
| Occupation: | Retired farmer's wife |
| Lives at: | Brookfield Farm |
Tough and determined, Jill brought up four children at Brookfield while supplementing the family income with bed and breakfast, selling eggs and honey and at one point running a craft studio with Jennifer Aldridge.
A fixture of the W.I. and St Stephen's, Jill has been a fierce campaigner on local issues but always puts family first, though they often see her concern as interfering.
When Ruth persuaded David to move north, Jill's refusal to go was a big factor in his change of heart. Her insecurity over Phil's first wife, Grace, flared with the arrival of Toby and Rex Fairbrother, nephews of the woman she's always worried about measuring up to.
Jill still greatly misses Phil, her husband of 52 years, who died in 2010. Being burgled at Glebe Cottage, their retirement home, brought more distress, so she was delighted to move back to Brookfield, where she dispenses cake, roast dinners and frankly expressed opinions.
It's only because I care about you darling.

Jill Archer
Likes: Bee-keeping, classic films, Stir-Up Sunday
Dislikes: Hunting, family rows, being reminded of her age
Highs: Birth of her grandchildren, any Flower & Produce Show prize
Lows: Losing Phil, the plan to sell Brookfield
Patricia Greene
'Paddy' was born in Derby in 1931 when the industrial Midlands were in a slump. She has therefore always been aware of debt.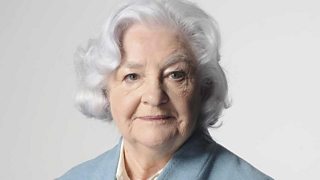 After grammar school she worked as a ward orderly in a children's hospital and in a sheet metal firm, while fighting her desire to become an actress. In 1951 she started on a three year course at the Central School in London. This was followed by the usual stints in all kinds of rep (twice nightly and continental classical tours), various TV and a film.
After beginning in The Archers she did many radio plays and worked for several months on Crossroads. She had time out to work on Arnold Wesker's film The Kitchen, and did stints at Birmingham and Coventry Rep. There have also been some tours of Archers plays.
She was delighted to work in twelve episodes of Call My Bluff and two performances of Doctors.
Nowadays she works mainly in The Archers. She is still stagestruck and her favourite pastime is going to the National Theatre.
Favourite
Actor - Britain is awash with huge talent. It would be impossible to choose one.
Book - The same is true of books!
Film - When I was a child I fell in love with Olivier's Henry V. Today I go to 'classical' films at an independent cinema. Recently, I marvelled at Serafine.