Main content
Luis
Luis was born and raised in Stockport, but both his parents are Spanish. This had a huge influence on his upbringing and meant he was fluent in Spanish from an early age. Luis met his wife Louise at college at the tender age of 17. The pair were engaged at 21, but didn't tie the knot until 14 years later in Las Vegas. He trained as a Graphic Designer and enjoys playing the ukulele, making model planes and keeping bees. His wife gave him his first beehive as a birthday present and thereafter his passion escalated – Luis currently keeps eight hives: four at home, three at his allotment, and one at his caravan site.
Smiley and affable but extremely focused, anything Luis sets his mind to he accomplishes. An extremely inventive baker, Luis produces thoroughly researched and unique bakes, such as his Tequila Slammer Cheesecake or cherry brandy pipette gateaux. He uses honey from his bees and fresh ingredients from his allotment in his baking. He also preserves his own jam and his Bakewell tarts are his favourite bake to make... and eat.
Luis in his own words
How did you get into baking?
I am completely self-taught. My baking addiction began about five years ago with some simple recipes that didn't come out great. With time and practice my baking got better and better. I read and research as much as I can and learn from others' experiences. The challenge of trying a new recipe or inventing something myself is something I relish.
Have you got any memories of baking as a child?
What I do remember from my childhood is my mum making her Spanish ring donuts. The days she made them were almost ceremonial; the ingredients came out, the large mixing bowl, the frying pan with hot aniseed flavoured oil filling the house with its aroma. Recently she has shown me how to make them. When she showed me the recipe, the quantity of sugar used was measured in egg shell halves, which I thought was wonderful. I think it's a shame how many recipes must have been lost in time because they have not been handed down through the generations.
What sets you apart from other bakers?
I always try and have a theme or put an element of design into my bakes, which I think makes my baking a little different to the other bakers' styles. I really like big, bold and colourful - trying to make my bakes stand out from the crowd is a must for me.
Why did you apply to be on The Great British Bake Off?
The reason I applied for the Great British Bake Off was that I wanted to improve my baking skills, learn and go on an amazing journey that would help me achieve that. It has been a fantastic life experience and I would recommend that anyone who is thinking about doing it to go for it.
Have you had any baking disasters?
I decided to enter the tray bake and cupcake sections in the local summer show a few years ago. I spent the time I had the night before making the three kinds of cupcakes I wanted to enter. It was getting late and I still had an almond and cinnamon tray bake to go. The base was rubbed butter and flour which took a while to do. I got it in the oven around 11pm. 30 minutes later I got it out and it looked great. I then wanted to transfer it from the baking tray to a wire rack and spun it upside down onto the rack (or so I thought). It slipped and slid straight onto the floor in a huge mess. I restarted and the tray bake was finally done around 1.30am.
What's your favourite thing to bake?
Bakewell tarts
Who is scarier, Mary or Paul?
Definitely Mary - she has a piercing stare combined with a look of disappointment when she clearly isn't happy with something you've made.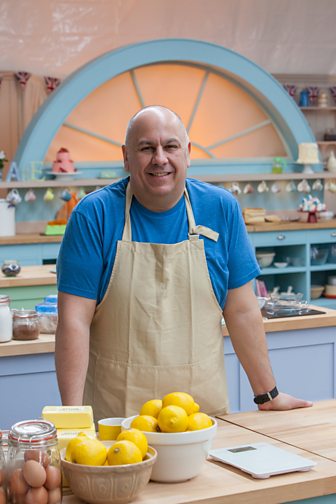 More from The Great British Bake Off