Main content
Daragh Carville (Writer)
Daragh started off writing poetry before going to university
What university/college degree did you do?
Drama and Film Studies at the University of Kent, Canterbury.
What was the best thing about university/college for you?
The best thing – and also the worst thing – was the independence, the fact of living away from home for the first time, and the whole process of trying to find out who I was and what I was going to do with my life. That was really exciting – but it was terrifying too. I went to university in England so it was a whole different country. Before then, the only time I'd left Ireland was for a school trip to London when I was eleven or twelve. So to find myself suddenly living on my own, so far from home, that was quite a challenge. And I must admit I did struggle for a while, but I got there in the end.
What was the best bit of advice you were given at university?
One of the drama lecturers, Alan Beck, took me under his wing, partly because he was Irish, and I guess because he liked me, he thought I had something. So he looked out for me. But about half way through my degree he took me aside and had a stern chat with me. He could see I had talent but I wasn't applying myself enough. I'd kind of withdrawn a bit, for various reasons. He told me that if I wanted to do this, if I wanted to be a writer, I'd have to really work for it, it wasn't handed to you on a plate. That really stuck with me. I'm very grateful to him for that.
How did you start out writing?
I was already writing when I went to university – writing really awful poetry, like you do – but it was at university that I started writing scripts. There was a playwriting module in the third year, and all the drama students wanted to do it – I think because it was seen as an easy option, a bit of a Mickey Mouse thing. There was something like 90 applications for about 10 places. So what they did was, they lined us all up in a lecture theatre and – literally – took names out of a hat. And my name was one of the names. So I got onto that course and that led to me writing my first play, a play called The Grandfathergrave. So it really was the luck of the draw. I dread to think of what would have happened if they hadn't picked my name.
What is the best thing about your job?
The collaborative process, the chance to work with talented people and learn from them. My wife's a novelist, and she spends years working on her own, just her and the book. I couldn't do that, it would drive me insane. I write in order to work with actors, directors, musicians; I really relish that whole part of the process.
Did you always know you wanted to work in the TV/media industry?
Pretty much. Looking back, the fact that at 17 I was applying to do a Film Studies and Drama degree shows where my mind was at. I remember a conversation when I was a kid with a visitor to the house, my aunt Mary – my Godmother actually – and she asked me what I was going to be when I grew up. And I said a film-maker. This would have been a completely alien idea – there was probably a bit of scoffing in our house - but she smiled and said 'sure somebody has to do it'.
What was it got you excited about writing for 6Degrees Series 2?
The chance to write for a home-grown Northern Irish drama series. The chance to write in my own voice, in the very particular language of Belfast and Northern Ireland. And the chance to write for a terrific new generation of actors.
What was it like writing for the characters you had seen in the first series?
Great. They were such clearly defined characters, beautifully performed, so that made it a lot easier for me. It was the same when I worked on BBC3's Being Human: the fact that I already knew the show and loved the characters made it a joy to write for. When you can hear the characters' voices in your head you're halfway there.
What advice would you give to students wanting to pursue a career in TV/media?
Work hard, work with good people – and do what you love.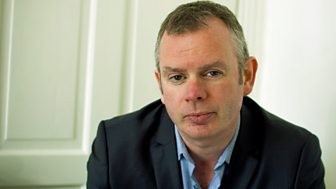 New Crew Member

New Crew Member

New Crew Member

New Crew Member