Main content
Sooyeon Lee
Soprano from South Korea - 30 years old
I received a Bachelor's Degree in classical voice at Seoul National University in South Korea. After moving to Europe, I graduated with distinction from Vienna University, where I obtained a Master's Degree in Opera and graduated with postgraduate degrees in Lied and Oratorio.
I have been with the ensemble of Staatstheater Oldenburg in Germany since the 2016/17 season, performing roles including Lucia (Lucia di Lammermoor), Gilda (Rigoletto), Konstanze (Die Entführung aus dem Serail) and Marie (La fille du régiment). But I don't only sing opera. I have also given song recitals in Germany and Korea and elsewhere, and a memorable experience was working with pianist Helmut Deutsch in India.
Awards I have won at competitions include the CulturArte Prize at Operalia 2017, 2nd Place and Audience Prize at the 2015 ARD Competition. I was a finalist at the 2018 Queen Elizabeth Competition and winner at the 2013 Beaumarchais International Competition.
In 2019/20, I will make my debut as Amina (La sonnambula) and Oscar (Un ballo in maschera) as well as performing other roles in Oldenburg. In a series of New Year's concerts for 2020, I will sing with the Vienna Tonkünstler-Orchester in many locations, including the Golden Hall of the Musikverein in Vienna.
In my free time, I like to go jogging, bowling, and vlogging with my husband.
Sooyeon Lee
Soprano, 30 oed, De Korea
Mae gen i Radd Baglor mewn llais clasurol o Brifysgol Genedlaethol Seoul yn Ne Korea. Ar ôl symud i Ewrop, graddiais gyda rhagoriaeth o Brifysgol Fienna, lle enillais Radd Meistr mewn Opera, ac ennill graddau ôl-radd ym maes y Lied a'r Oratorio.
Rydw i wedi bod yn aelod o ensemble Staatstheater Oldenburg yn yr Almaen ers tymor 2016/17, yn perfformio rhannau fel Lucia (Lucia di Lammermoor), Gilda (Rigoletto), Konstanze (Die Entführung aus dem Serail) a Marie (La fille du régiment). Ond nid opera'n unig y byddaf yn ei ganu. Rydw i hefyd wedi cyflwyno datganiadau o ganeuon yn yr Almaen, Korea a lleoedd eraill. Un profiad cofiadwy iawn oedd gweithio gyda'r pianydd Helmut Deutsch yn India.
Mae'r gwobrau rydw i wedi'u hennill mewn cystadlaethau'n cynnwys Gwobr CulturArte yn Operalia 2017, a'r ail safle ac enillydd Gwobr y Gynulleidfa yng Nghystadleuaeth ARD 2015. Cyrhaeddais y rownd derfynol yng Nghystadleuaeth y Frenhines Elizabeth a fi oedd enillydd Cystadleuaeth Ryngwladol Beaumarchais yn 2013.
Yn 2019/20, byddaf yn ymddangos am y tro cyntaf fel Amina (La sonnambula) ac Oscar (Un ballo in maschera) ac yn perfformio rhannau eraill yn Oldenburg hefyd. Mewn cyfres o gyngherddau Blwyddyn Newydd ar gyfer 2020, byddaf yn canu gyda Tonkünstler-Orchester Fienna mewn llawer o leoedd, gan gynnwys yn Neuadd Aur y Musikverein yn Fienna.
Yn fy amser rhydd, rydw i'n mwynhau loncian, bowlio a gwneud blogiau fideo gyda fy ngŵr.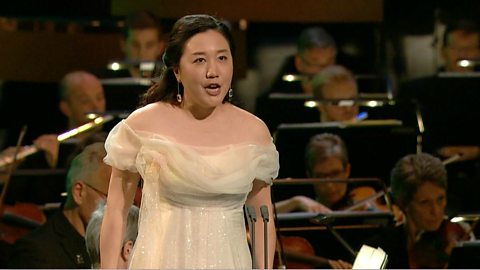 Sooyeon sings "Il dolce suono.. Spargi d'amaro pianto" - Lucia di Lammermoor by Donizetti
Repertoire
| Main Prize | Concert | |
| --- | --- | --- |
| Il dolce suono ... Spargi d'amaro pianto | Lucia di Lammermoor | Donizetti |
| Main Prize Final | Concert | |
| --- | --- | --- |
| Caro nome | Rigoletto | Verdi |
| Ah! non credea mirarti … Ah! non giunge | La sonnambula | Bellini |
| Song Prize | Recital 3 | |
| --- | --- | --- |
| Nacht und Träume | D827 | Schubert |
| Lied der Suleika | Myrthen Op25 No 9 | Schumann |
| Elfenlied | Mörike-Lieder | Wolf |
| Ich wollt' ein Sträusslein binden | Brentano Lieder Op 68 No 2 | Richard Strauss |
| Birds | | Dunam Cho |
| Song Prize Final | Concert | |
| --- | --- | --- |
| Ich atmet einen linden Duft | Rückert Lieder | Mahler |
| Du bist die ruh | D776 | Shubert |
| Du meines Herzens Krönelein | Schlichte Weisen Op.21'2 | Strauss |
| Hans und Grete | Lieder und Gesänge aus der Jugendzeit | Mahler |
| Villanelle | | Eva Dell'Acqua |