Main content
Miss Havisham
Miss Havisham lives in Satis House with her adopted daughter, Estella.
Time stands still yet everything turns to dust.

Miss Havisham
She has not left the house since she was abandoned on her wedding day and roams from room to room in her torn and faded wedding dress. The clocks in Satis House stopped a long time ago and the house steadily decays around her. But while her world has not moved on for years, Miss Havisham sees a little boy with potential in Pip...
Gillian Anderson
Gillian achieved international recognition for her role as Special Agent Dana Scully on the American television series The X-Files. During the show's nine seasons, Gillian won Emmy, Golden Globe, and Screen Actors Guild awards. Her film work includes The House of Mirth, an adaptation of the Edith Wharton novel, The Mighty Celt, The Last King of Scotland, Straightheads, Boogie Woogie and Johnny English Reborn.  Gillian was nominated for BAFTA, Emmy and Golden Globe awards for her role as Lady Dedlock in the BBC adaptation of Bleak House and most recently starred in The Crimson Petal and the White and Any Human Heart for which she was nominated for a BAFTA.
Gillian has also starred on the London stage in Ibsen's A Doll's House, at the Donmar Warehouse, for which she received a nomination for Best Actress in the Lawrence Olivier Awards. Gillian stars in the upcoming film Shadow Dancer and is currently working on the film Mr Morgan's Last Love.
Clips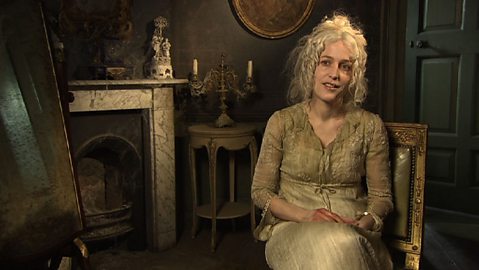 Gillian Anderson (Miss Havisham) discusses the Great Expectations script and set designs.