Main content
Lithuania: Eglė Šidlauskaitė
Mezzo-soprano - born 1983
Eglė Šidlauskaitė was born in Kaunas and studied at the Lithuanian Academy of Theatre and Music in her home town and the Conservatorio di Musica Giuseppe Verdi in Milan.
Eglė has been successful in many international singing competitions, including winning first prizes at the Capriolo Franciacorta and G Cobelli competitions and being a finalist and special prize winner in the Competizione dell'Opera 2011. In 2010 Eglė won a scholarship to join the Solti Te Kanawa Academy to work intensively on vocal technique and performance.
She toured in Germany, Austria and France in 2010 as Azucena Il trovatore with Opera Italiana di Milano. In the 2011/2012 season she was a member of the newly-established Opera Studio at the State Theater in Kassel where roles included 3rd Lady Die Zauberflöte, 3rd Flowermaiden Parsifal and Sonjetka Lady Macbeth von Mzensk. In 2012/2013 Eglė performs Fenena Nabucco and Composer Ariadne auf Naxos at Freiburg Opera House. Future plans include Schwertleite Die Walküre at Opera am Rhein in Düsseldorf.
Eglė has worked with many international artists including Patrik Ringborg, Asher Fisch, Richard Bonynge, Giacomo Aragall and Dame Kiri Te Kanawa.
Eglė enjoys dancing, swimming and going to the theatre and cinema.
Acerba voluttà (Adriana Lecouvreur) – Cilea
The plot of this opera is distantly based on fact and was made hugely popular as a play by the actress Sarah Bernhardt. It tells the story of a celebrated Parisian actress whose passion for the dashing Count Maurizio is thwarted by her rival the Princess de Bouillon. Here, the Princess waits anxiously for a tryst with the Count and sings of the bitter pleasures and sweet tortures of being in love.
Mon coeur s'ouvre à ta voix (Samson et Dalila) - Saint-Saëns
Dalila seduces Samson to discover the secret of his strength. She tells him that her heart awakens to the sound of his voice, and she longs for him to respond to her caresses, and intoxicate her with his love. In operatic performances, Samson joins Dalila at the end of the second verse to make it a duet.
Fia dunque vero… Oh, mio Fernando (La favorita) – Donizetti
Spain, around 1340. Alfonso XI, King of Castile, has allowed his mistress Leonora to marry Fernando, the man she truly loves, as a reward for Fernando's victory over the Saracens. After her initial joy, Leonora realises that she will have to tell Fernando the truth about her relationship with the king. She sees her sufferings written in the heavens, and imagines herself rejected and veiled in black.
Clips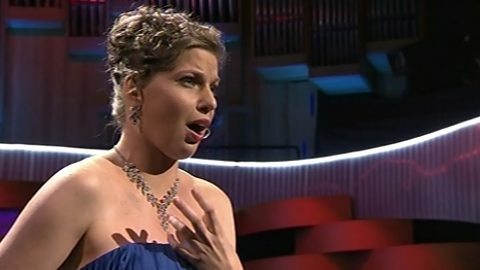 Eglė Šidlauskaitė from Lithuania sings in concert three.