Main content
Denmark
Representing Denmark is Emmelie de Forest with Only Teardrops.
Having started singing professionally at the age of 14, Emmelie de Forest won't be phased by her Eurovision experience. The 18-year-old singer spent her formative years appearing at festivals and cultural centres alongside Scottish musician Fraser Neill, singing self-penned songs, as well as folk/blues versions of artists such as Nirvana and Johnny Cash.
Being barefoot makes me feel closer to the ground, the earth and makes me feel more relaxed

Emmelie
In 2011, she moved from Mariager, Nordjylland to Copenhagen and registered at Katrine Sadolins' Complete Vocal Institute for singing students.
She was one of ten acts bidding to represent Denmark at Eurovision 2013. In January of this year, she won the national selection with over 50 percent of the votes cast in the final.
Emmelie claims to be the great-great-grandchild of Queen Victoria, as her grandfather, Count Maurice Arnold de Forest supposedly was an illegitimate child of King Edward VII.
With a grandmother with links to Sweden's nobility and her brothers and sisters living in Stockholm, Emmelie should get a good reception from the Swedish crowd.
And she won't have far to travel as Malmö is just a short boat trip across the Øresund from her home in Copenhagen.
Clips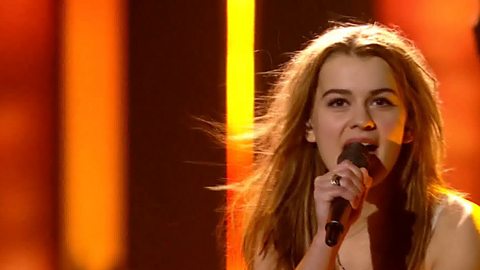 Composers: Lise Cabble, Julia Fabrin Jakobsen and Thomas Stengaard