Main content
Edouard Vuillard (1868-1940)
Vuillard was one of the leading French post-impressionists.
Vuillard moved to Paris when he was 10 years old and in 1886 became a student at the Ecole des Beaux-Arts. He later went to the Académie Julian where he met Pierre Bonnard, Maurice Denis and several other painters with whom he founded the Nabis group in 1888. The Nabis group, inspired by the work of Gauguin, broke away from traditional art and experimented with colour, texture and patterns.
I don't do portraits; I paint people in their surroundings

Edouard Vuillard
From around 1900 Vuillard turned to a more naturalistic style and, along with Bonnard, he began to practice Intimism. He focussed his attention on painting intimate domestic interiors but continued to use exaggerated colours and patterns to capture the mood and atmosphere. Vuillard also made great use of his camera to capture informal, fleeting moments with his family and friends in their homes. Vuillard once said "I don't do portraits; I paint people in their surroundings."
As well as his smaller paintings, Vuillard was well known as a painter of large decorative schemes, posters and theatre sets; some of which can still be seen at the Theatre des Champs-Elysee. Vuillard's social circle was dominated by his friends from the theatre.
Although he was successful as an artist, Vuillard chose to live modestly and shared a home with his mother until she died in 1928. Vuillard never married but it is thought that he had an affair for many years with Lucy Hessel, the wife of his art dealer Jos Hessel. He was elected to the Institut de France in 1938.
Vuillard died in Paris in 1940.
Clips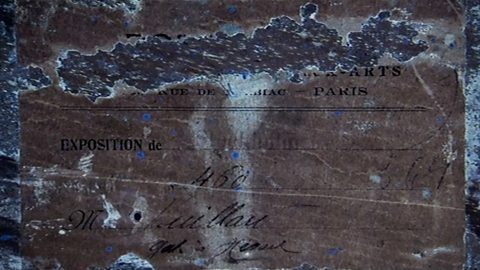 A label on the back of the painting hides clues which are revealed under UV light.