Main content
Kirsty Miller
Kind-hearted and straight-talking, Kirsty is always there for her friends – even when they don't deserve it.
| Fact title | Fact data |
| --- | --- |
| Played by: | Annabelle Dowler |
| Born: | 5 May 1981 |
| Status: | Single |
| Occupation: | Health Club Manager |
| Works at: | Grey Gables |
| Lives at: | Willow Farm |
Kirsty first bonded with Tom Archer when they were both young eco-warriors. She committed fully to Bridge Farm, working for Helen at Ambridge Organics even after Tom had dumped her.
When she and Tom got back together, she went into full Bridezilla mode and bought two wedding dresses. Being left at the altar was a devastating blow but, always practical, she went on their Costa Rica honeymoon with a friend.
Returning to Ambridge to work at Grey Gables health club, Kirsty soon saw through Helen's partner Rob, who did everything he could to destroy their friendship. Kirsty stood firm and did everything she could to encourage Helen to leave him.
Finding she was pregnant after a one-night stand with Tom was a shock, but Kirsty was adjusting happily to the idea when she miscarried. She tried to cover over her feelings, but ultimately she had to allow herself time to grieve.
I'm sure we can fix this…

Kirsty Miller
Annabelle's thoughts on Kirsty
Kirsty is a bright, honest, friendly, fun girl. However I feel she lost her way a bit! She started out as this big eco-warrior and it's a shame she didn't use her environmental passion in her career. I also feel, after quite a few let downs over the past few years, she deserves some luck romantically!
Annabelle Dowler
Annabelle was born and brought up in Formby, near Liverpool. After a Spanish and Drama degree at Bristol University, she trained at Webber Douglas Academy of Dramatic Art, graduating in 1998.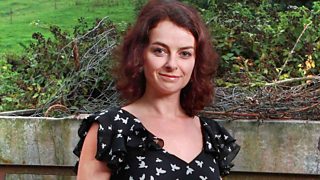 Since then Annabelle has undertaken a wide range of work in theatre, television and radio drama. Her theatre work includes Peter Pan at the National Theatre, Perpetua at Birmingham Rep, As You Like It and The Snow Queen for Oxford's Creation Theatre, Breezeblock Park and The Flint Street Nativity at Liverpool Playhouse, The Mayor of Zalamea at Liverpool Everyman and Tartuffe in Liverpool and at the Rose Theatre, Kingston.
Recent TV credits include Lewis, Eastenders and Silent Witness.
As well as playing Kirsty, Annabelle does a lot of other radio drama, spending three months in 2009 as a member of the BBC Radio Drama Company. Some of her favourite appearances include Wuthering Heights, Mr Lowry's Loves, My Turn to Make the Tea, Miss Marple: The Moving Finger, Single Parent Pal.com and Our Mutual Friend.
Annabelle lives in London with her husband Alejandro. They had a baby boy in 2010.
Archers highlights
Recording The Archers at Glastonbury! I and the actors who play Tom, Fallon and Ed got to go to Glastonbury to record the episode where Kirsty got back with Tom, helping him out with his sausage selling. We only recorded for two mornings and spent the rest of the time just having an amazing time at the festival. We also got to meet the late, great John Peel.
Other career highlights
Playing Catherine of Aragon in the TV series The Six Wives of Henry VIII. Having studied Spanish at University it was great to use it in my acting career. It was also fantastic to study the life of, and play, this amazing queen and to wear some wonderful period costumes.
My favourite job so far has been Moliere's Tartuffe

Annabelle Dowler
Theatre-wise, my favourite job so far has been Moliere's Tartuffe at the Liverpool Playhouse.
Roger McGough, who I was already a big fan of, wrote a fantastically witty adaptation and I just loved my character, Dorine. It's also always great fun to work back home in Liverpool.
Favourite
Actor - Julie Walters
Book - The Time Traveller's Wife
Film - The Graduate