Main content
Syed Masood
When he walked onto the Square, Walford's ladies took notice of Syed – he's good looking, suave and sophisticated. But they weren't what he was looking for…
| Fact title | Fact data |
| --- | --- |
| First appearance: | 21st April 2009 |
| Last appearance: | 15th November 2012 |
| Occupation: | Businessman and stall holder |
Amira, who followed him to The Square, was sure she'd found her handsome prince, but she had no idea that Syed was actually fighting his feelings for her friend Christian. And that Christian was secretly willing Syed to leave her.
I've got this great idea...

Syed Masood
Likes: Chocolate and Christian's cooking
Health issues: Metal pin in his left shin
Qualifications: Degree in Economics and Diploma in Massage
Children: Yasmin (daughter)
Interests: Property development/Massage
The eldest of the Masood children, Syed was the apple of his mum's eye, but this changed when he revealed that he was gay. Zainab disowned him, and even his easy-going dad Masood turned against him.
Under pressure from his family, Syed was coerced into marrying Amira, but though he tried to make it work, his feelings for Christian were too strong. Truth prevailed and Chryed (Christian and Syed) moved in together.
But Princess Amira wasn't giving up that easily. When she returned to the Square with Syed's baby Yasmin, she thought that she had hit upon the perfect way to tear Chryed apart. However, she finally had to accept defeat, and come up with amicalble childcare arrangements for little Yasmin.
However, in true Walford fashion, a happy couple is only happy for a short time, and while Christian busied himself planning their dream wedding, Syed was playing away with wide boy Danny and getting himself embroiled in some very dodgy buisness dealings...
But true love prevailed and Chryed decided to leave their mistakes in The Square and departed, hand in hand to embark on a new life in America... let's hope the happy couple stay that way!
Marc Elliott
Marc shaped up to play hunky Syed by doing lots of swimming.
If he could be any character from EastEnders Marc would choose either bad boy David Wicks or the wicked Janine Butcher.
Marc has a twin sister called Sophie - who is a massive fan of EastEnders.
Marc is from William Shakespeare's hometown of Stratford-upon-Avon.
He loves cooking and his favourite meal is roast lamb.
You may have seen Marc previously in Holby City or The Bill. He's also toured Britain in the stage production of The History Boys.
Clips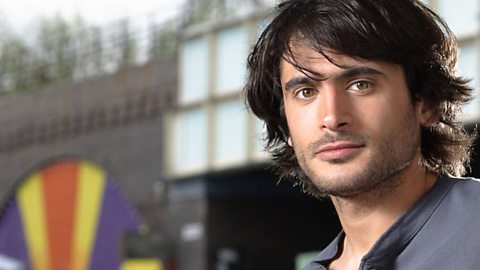 Smooth, suave and sophisicated, Syed is the eldest of the Masood children. He's also a natural charmer who can talk his way out of any situation.