Main content
Nicholas Crane
Nick is the author of ten books (and co-author of another two).
His most recent published work is Coast, published by BBC Books in 2010.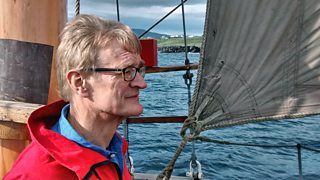 A lifetime devoted to bold, low-impact adventure
In recent years Nick has become best known for his work on BBC television, presenting the BAFTA-winning BBC Two TV series Coast, Map Man, Great British Journeys, Nicholas Crane's Britannia and Town - a BBC / Open University co-production. Since 2004, Nick has been the lead presenter on more than 60 BBC films.
In 2002 Nick published Mercator: The Man Who Mapped the Planet" the first English language biography of the world's greatest cartographer.
From May 1992 until October 1993 Nick undertook a solo, 17-month, 10,000-kilometre mountain walk across the continent of Europe from Cape Finisterre in Spain, to Istanbul in Turkey. Clear Waters Rising - A Mountain Walk Across Europe was published and won the 1997 Thomas Cook / Daily Telegraph Travel Book Award. In addition to his book Nick also filmed and wrote a 53-minute TV documentary of his walk, High Trails to Istanbul.
In 1998 BBC Two filmed Nick repeating the Pyrenees section of his European walk in their series Wilderness Walks.
Following his walk across the continent of Europe, Nick undertook a unique pedestrian challenge: an attempt to walk in a straight line from one end of England to the other along England's prime meridian. Two Degrees West - An English Journey, was published in 2000.
Nick's journalism has been regularly published in The Daily Telegraph and The Sunday Telegraph. He has also contributed to The Sunday Times, the Guardian and Independent newspapers. He has recorded documentaries for BBC Radio 4. He undertakes regular public speaking engagements, with venues ranging from The Royal Geographical Society to the The Explorers Club in New York, festivals and corporate events.
Nick has also written about his travels in North and South America, Asia and Africa, Australia and New Zealand. With his cousin, Dr Richard Crane, he has mounted expeditions to raise funds for the charity Intermediate Technology (now known as Practical Action). In 1986 Nick and Richard travelled by bicycle from Bangladesh, over the Himalayas, and then across Tibet and the Gobi Desert to locate the geographical Pole of Inaccessibility. This is the point on the globe most distant from the open sea, and was the first time this point had been accurately identified and visited.
In 1988, Nick travelled by horse and foot for six weeks through the Hindu Kush mountains of Afghanistan, gathering data on war damage for the refugee relief agency Afghanaid and for the United Nations. The journey was described in a two-part documentary, Forbidden Journey, which Nick made for BBC Radio 4.
In 1993 Nick was awarded the Royal Scottish Geographical Society's Mungo Park medal. In 2000, he won the USA's Polartec Adventurer of the Year Award, for a lifetime devoted to bold, low-impact adventure.
Nick has a London University BA Honours degree in Geography. He is a Fellow of The Royal Geographical Society and a member of The Royal Society of Literature. He has served on the Management Committee of the Society of Authors, and on the Council of the Royal Geographical Society, and as a Vice-President of the Campaign to Protect Rural England.