Main content
Caroline Sterling
Caroline passed away on 10 July 2017
| Fact title | Fact data |
| --- | --- |
| Played by: | Sara Coward |
| Born: | 03 June 1955 |
| Status: | |
| Co-owns: | Grey Gables Hotel (with husband Oliver) |
I'm going to take Maisie for a hack after I've agreed these menus.

Caroline Sterling
Likes - Hunting, cooking, riding, things Italian, riding
Dislikes - Too well brought up to express any
Highs - Taking over the running of Grey Gables
Lows - The sudden death of her soulmate Guy Pemberton in 1996 after just six months of marriage
Sara Coward
Sara made her debut in The Archers as Caroline in 1977 and lent her much envied voice to the character for 40 years until her death in February 2017. In tribute to Sara, Michael Cochrane - who plays Oliver Sterling - said, "She had a voice that dripped honey. She was a brilliant actress, a wonderful person and will always live in my heart."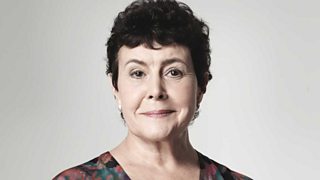 Read more tributes to Sara from Archers actors and listeners
Sara was born and brought up in south-east London and went to the local girls' grammar school. She went on to Bristol University to take an honours degree in Drama/English and then to the Guildhall School of Music and Drama. While there she win the Carleton Hobbs Award and a six month contract with the BBC Drama Rep, which launched her into professional work in London.
As well as The Archers, Sara made occasional forays into TV (Rumpole of the Bailey, Inspector Morse, Hetty Wainthropp Investigates) and spent much of her time playing in various theatres throughout the UK. Her favourite roles included: Sally Bowles in Cabaret, Vera in A Month In The Country, Amanda in Private Lives, Lady Macbeth, and latterly Muriel in Habeas Corpus, Mrs Warren in Mrs Warren's Profession and Lady Bracknell in The Importance Of Being Earnest.
Sara also appeared in many plays on BBC Radio 3 and 4, and narrated audiobooks, documentaries and a short film about the life of Florence Nightingale.
She toured a one-woman show and collaborated with Sunny Ormonde (Lilian Bellamy) in Wicked Women, which revelled in the lives of lovely and funny women in terms of wine, men and song!
Away from acting, Sara was also a trained and licensed acupuncturist, had pet rescue greyhounds, supported the charity WaterAid and did several voluntary jobs in her local community, including Victim Support and Samaritans.
Sara's thoughts on Caroline
I'm very fond of Caroline. She hasn't had an easy life, in spite of her privileged upbringing, and has been much maligned. 'The bicycle of Ambridge' – really! The poor girl was only trying to find the right man; she just happened to search in some pretty peculiar places. Her affair with Brian Aldridge has to be an all-time low.
There's a slim and very funny volume of poetry published, by a lady called Barbara Williams, called Ambridge Exposed. It takes a hilarious and irreverent look at some of our favourite characters, and includes The Ballad Of Caroline Bone. It enumerates her various affairs and adds some more for good measure. Most unkind!
Archers highlights
We did a wonderful trip to Berlin just before the Wall came down. Caroline went over with George Barford to visit his son Terry, who was in the forces there. My own brother happened to be stationed there at the time, and in between Archers appearances he took me over to the East to have dinner (appalling) and see the Berliner Ensemble in The Threepenny Opera (wonderful). We stayed with the Army and were introduced to the internal workings of huge tanks. Fascinating experience!
Her Royal Highness was charming

Sara Coward on Princess Margaret
Another highlight was working with Princess Margaret and the Duke of Westminster. Both were patrons of the NSPCC and appeared attending a gala at Grey Gables to fundraise for the charity. The Duke came to our Pebble Mill studio, but we went to travel to Kensington Palace to record with Princess Margaret.
Her Royal Highness was charming, ("I have this terribly flat voice", she told me apologetically) with a ready sense of humour and a dry wit. We did one rehearsal and the producer said "That's very good, Ma'am, but do you think you could sound as if you were enjoying yourself a little more?" She looked him straight in the eye and said acidly, "Well, I wouldn't be, would I?"
Other career highlights
Being on stage with Dorothy Tutin, playing a tender scene in A Month In The Country at the Albery when a bomb went off just outside the theatre. The audience did an intake of breath, but neither of us missed a beat and everyone soon quietened down. Luckily, there were no serious casualties.
Playing Marianne Faithfull, Bianca Jagger and a host of other women in a musical called Let The Good Stones Roll, a look at the lives of the Rolling Stones. We took it to the Edinburgh Festival and were the hit of the festival that year, later bringing the production into the West End. If the play had been better written we'd all be stars today! It was a very talented cast.
And so many lovely, meaty parts in beautiful theatres with good directors and highly talented actors – a real chemical buzz!
Favourite
Actor - I know it's clichéd and predictable, but I'm afraid it's still Judi Dench. Her combination of consummate skill and humanity is unsurpassed for me.
Book - The Tao Te Jing by Lao Tse. Complete, very simple, incredibly complex study of the way of the world.
Film - Tootsie with Dustin Hoffman – the perfect actor's movie.