Main content
Ronnie Archer Morgan
Ronnie Archer-Morgan has been working in the antiques business for 30 years.
| Fact title | Fact data |
| --- | --- |
| Joined the Roadshow: | 2011 |
| Memorable find: | A Fijian war club |
However, antiques were not always in the plan. Whilst working as a hairdresser for films and commercials, Ronnie would browse the local antiques shops and markets. When he would return with his purchases, he found his clients admired the antiques and wanted to buy them. A new career then beckoned and he was eventually drawn to specialist work, acting as a consultant to Sotheby's on collections as diverse as wristwatches and costume jewellery.
He is now an independent specialist working largely for private clients and galleries. He has a particular interest in locating and identifying ethnic, tribal and folk art.
Ronnie is a recent new addition to the Antiques Roadshow team, and at upcoming valuation days he would really like to see a Shaman's mask from one of the North West Coast tribes of America. If he had to select his favourite item from his collection, it would have to be an amazing late 19th Century life-size oil portrait of the 13th Dalai Lama, something Ronnie feels privileged to own.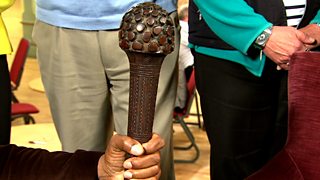 Ronnie's most exciting find on the Roadshow so far was a Fijian war club brought along to Scarborough in 2012. Called a 'Buli Buli', it is a beautifully carved ironwood club with a rather sinister purpose - to crush the skull of the enemy. It was a rare find and worth a whopping £35,000.
Outside antiques, Ronnie's greatest passion is collecting records and listening to music of all kinds.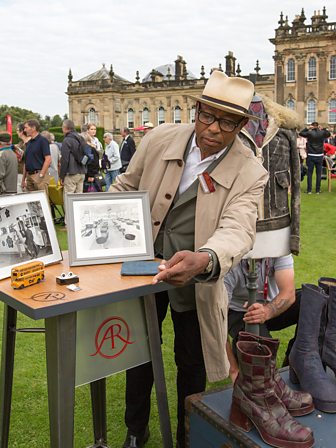 Arms & militaria

Arms & militaria

Arms & militaria

Books & manuscripts

Books & manuscripts

Books & manuscripts

Books & manuscripts

Ceramics & glass

Ceramics & glass

Ceramics & glass

Ceramics & glass

Ceramics & glass

Ceramics & glass

Ceramics & glass

Ceramics & glass

Clocks & watches

Clocks & watches

Clocks & watches

Furniture

Furniture

Jewellery

Jewellery

Jewellery

Jewellery

Miscellaneous

Miscellaneous

Miscellaneous

Miscellaneous

Miscellaneous

Miscellaneous

Miscellaneous

Miscellaneous

Miscellaneous

Miscellaneous

Miscellaneous

Miscellaneous

Miscellaneous

Miscellaneous

Miscellaneous

Miscellaneous

Miscellaneous

Miscellaneous

Miscellaneous

Miscellaneous

Miscellaneous

Pictures & prints

Pictures & prints

Pictures & prints