Main content
Mark Stephen
Mark Stephen presents BBC Radio Scotland's Saturday morning outdoors show
Right now Mark is Radio Scotland's most prolific features presenter. He presents the highly popular weekly outdoor magazine programme Out of Doors on Saturday mornings, the equally popular but slightly less anarchic history series Past Lives 16 weeks out of the year and the one-on one conversation series Turning Points 26 weeks a year. Aside from that, last year, he presented programmes about the global economic importance of the bicycle in Namibia, China and Denmark.
Mark did Journeys of Faith to Ethiopia, India and Japan and he also did a whole series of programmes from Malawi. He's done short series on diving, National Service, William Wallace, Bonnie Prince Charlie and poisonous snails.
Mark still get a real buzz out of what he does - it's great fun, but it's not, as a lot of people suppose about "speaking". The biggest part of his job is listening and it's almost always a pleasure. Everybody and he means everybody has a story to tell. All he has to do is shut up long enough for them to tell it.
Mark and his wife Jean live on a smallholding in rural Aberdeenshire with their two daughters Rebecca and Jessica, three horses, three cats and a labradoodle (posh mongrel) Abby. The only male company he has, out of the entire lot, is the Ginger cat, and it hates him.
His ambition is to go to Antartica and/or own a Tiger Moth biplane.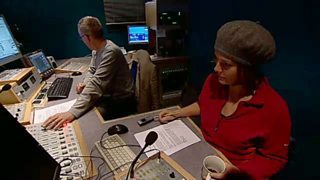 Out of Doors - Behind the Scenes
Early morning long before the sun is in the sky the Out of Doors team are hard at work putting the show together. Take look behind the scenes. Filmed in 2008.