Main content
Virginia Woolf
Played by Lydia Leonard (1900s-1920s) and Catherine McCormack (1930s-1940s).
As Vanessa's younger sister and a literary genius, Virginia is considered one of Britain's most important 20th Century writers. As a young woman, she idolised Vanessa as a substitute mother and looked to her as the one capable of living freely. Despite her lifelong battle with mental illness, Virginia is a rewarding and loving friend. She lives with great creativity, vitality and is also known for being a bit of a gossip.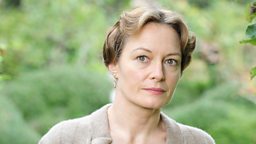 Catherine McCormack as Virginia
About Lydia Leonard
Lydia Leonard was recently nominated for a Tony Award for her Broadway debut as Anne Boleyn in the RSC production of Hilary Mantel's Wolf Hall. Other theatre productions include Onassis, Time and the Conways, Frost/Nixon and Hecuba.
Lydia's film appearances include The Fifth Estate, Archipelago and True True Lie. She has also starred in a variety of television dramas, including Ambassadors, Da Vinci's Demons, Whitechapel, Law & Order, Spooks, Ashes to Ashes, The 39 Steps, Margaret Thatcher, A Line of Beauty, Jericho, Rome, Foyle's War and Midsomer Murders. Lydia will soon return to BBC One in River, written by The Hour's Abi Morgan.
About Catherine McCormack
Catherine starred as Murron in the Academy Award-winning Braveheart. Her other film work includes Woody Allen's Magic in the Moonlight, The Fold, 28 Weeks Later, The Weight of Water, Born Romantic, Land Girls and Loaded. On television, Catherine has starred in BBC One's Sherlock as well as in Lucan, Lights out, Midnight Man, Stevie, Elizabeth David, In Praise of Hardcore and Gunpowder, Treason and Plot.
Catherine's stage performances include King Lear, The Heresy of Love, Six Characters in Search of an Author, A Dolls House, The 39 Steps and National Theatre productions including All My Sons, Free, Dinner and Honour, amongst others