Main content
Angella Emwuron
Winner of the English as a Second Language category 2012
Background
I am a writer and stage director, who lives and works in Kampala, Uganda. Taking a leap in April 2009 to write and direct full time whilst fitting in various odd jobs to make ends meet, I was fortunate to meet and work with a variety of people and imagine that perhaps this could be called part of my "creative process".
I had written one other hour-long radio play, Blackberry Girls!, won 3rd place in the 2010 BBC African Performance Playwriting Competition with my radio play The Cow Needs a Wife, and written a short film How to Kill a Cockroach directed by Nairobi Half Life's David "Tosh" Gitonga. I also regularly write short skits and play-lets to amuse friends and family.
In 2012, I directed The River and the Mountain (Beau Hopkins; Tilapia/MishMash) and directed a high school theatre production initiative supported by Kampala Amateur Dramatic Society.
Her winning play: Sunflowers Behind a Dirty Fence
Young Yakobo has never been in trouble before – but now he's lost his grandfather's favourite photo and, in his desperation to make things right, he decides to take an ill-advised trip to the big city of Kampala.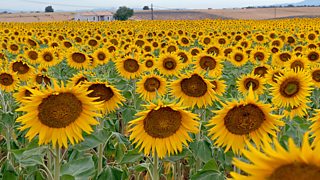 Yakobo's never been away from the comforts of home before and has no idea about many things. Reluctantly joining forces with the street urchin, Tonnie, together they topple in and out of bizarre adventures and discover why good people sometimes do bad things. Like sunflowers behind a dirty fence, the two friends are to find that sometimes the best things can be hidden behind an unwelcome exterior.
The judges thought this was "a touching, purposeful adventure, in which the characters jumped straight off the page".
Winning the Competition
Reflecting on the competition, Angella said, "This prize is such a huge opportunity for people in Uganda and the rest of Africa especially, who would never otherwise have the opportunity to be heard on a world stage".
To actually win is incredible

Angella Emwuron
As part of her prize, Angella was invited to become a Writer In Residence for the Commonwealth Writers, where she wrote a blog and you can also see her video interviews.
Listen to a clip of Angella talking about winning the competition
Since the Competition
Winning the 2012 BBC International Playwriting Competition was a much needed boost to my confidence to stay the course and continue to find and develop my voice as a writer and director.
Working with Sunflowers Behind a Dirty Fence director, Ros Ward, as well as the rest of the production crew was invaluable in my own thinking about becoming a more collaborative artist.
And I cannot thank the competition enough for introducing me to Janet Morrison, 2012 winner English as a First Language for The Fisherman. What an incredible person and writer.
Since February 2013, I co-directed Shakespeare's Macbeth at the National Theatre (March 2013, Uganda), participated in the 2013 Lincoln Center Theater Directors Lab (July 2013, New York), and will be attending a play development workshop in November 2013 for my newest project, a stage play titled Strings.