Main content
Richard
Born in North London, Richard is a family man through and through. He is the fourth generation working in his family's building business. A keen fisher, diver and cyclist, he has his own allotment in his back garden and volunteers for the National Wildlife Trust. He is teaching his daughters eco-friendly ways to help animals by building homes for hedgehogs to hibernate in.
Richard is as comfortable baking in the kitchen as he is building one, and likes to bake with his wife and two little girls. Richard loves bread and pastry and likes to rummage through his vegetable patch to find something to bake with. Making their daughters' birthday cakes is as big an event as Christmas, with the girls coming downstairs in the morning to see what their parents have created for them.
Richard in his own words
When did you get into baking?
I used to bake as a child with my mum then, as a teenager, I had a Saturday job washing up in a local bakery. I used to love watching what the baker made each week (and eating his doughnuts)!
Have you got any memories of baking as a child?
Making bread tortoises with my mum when I was very little, maybe aged seven or eight.
Why did you apply to be on The Great British Bake Off?
We watch it every year and really enjoy it. After last year I had quite a few friends and family say, "you should go on Bake Off", so I put my money where my mouth was and here I am.
Have you had any baking disasters?
All the time. That's part of the fun of it.
What would your autobiography be called?
'Riding My Luck'
What's your favourite thing to bake?
Bread
Who is scarier, Mary or Paul?
Mary, because you never want to disappoint her.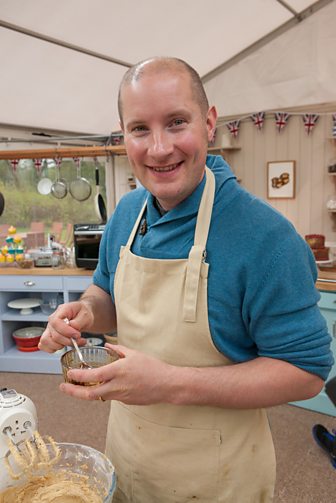 More from The Great British Bake Off