Main content
Sir Patrick Alfred Caldwell-Moore
Sir Patrick Moore, who died on December 9th 2012, was a man of extraordinary gifts who led a remarkable life.
A tribute by the Sky at Night team
He was born in 1923, in the same year as the BBC was founded, and for more than half a century Patrick's career represented the BBC at its very best.
for more than half a century Patrick's career represented the BBC at its very best

The Sky at Night team
The BBC's ethos was to educate, to inform and to entertain – and all three came naturally to Patrick – often at the same time and in the same sentence. He was much loved by viewers as a musician and entertainer, had a mischievous sense of humour and could more than hold his own as a comedian with the likes of Morecambe & Wise and the Two Ronnies, but Patrick was also an enthusiastic communicator of science to the widest possible audience.
He was a distinguished astronomer but completely self-taught and always prided himself on being "just an amateur" while enjoying the recognition and respect of fellow scientists from all over the world. As a young man Patrick had played a key part in mapping the Moon and thereby he made possible the space missions and lunar explorations of both the USA and USSR. As a broadcaster he reported NASA's Apollo missions and their manned landings on the Moon and he communicated these to his television audience with the boyish enthusiasm which stayed with him all his life.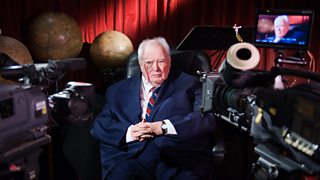 From the first broadcast in 1957 Sir Patrick went on to present The Sky at Night for over 55 years – making this the longest-running TV series anywhere in the world with the same presenter. As such, he introduced generations of people to the marvels of the night sky and by doing so changed countless lives by encouraging people to look up at the night skies and wonder.
His own life - told here in his own words and with characteristic humility – is where it all began.
In his own words, 2011
I was born in Pinner, but when I was six months old my parents moved to Bognor (it wasn't Bognor Regis then) and I am essentially a Sussex boy. My father was in the Army - he won the MC in the First World War - but I didn't take after him. My mother was a trained singer and a talented artist too. From her I inherited the music, but not the art!
My interest in astronomy went back to the age of 7

Sir Patrick Moore
My education was disjointed. The plan was Prep. School, Eton, Cambridge - I never made any of them. During my boyhood I was handicapped by heart trouble; I managed my Cambridge entrance exams externally, but then came the war, and I joined the RAF as a navigator with Bomber Command (I admit that I wasn't 100% honest about my age or fitness, but when I was found out it no longer mattered, and Flight-Lieutenant Caldwell-Moore was not even told that he had been a naughty boy). At the end of the war I returned home, then to East Grinstead. Cambridge was still open to me, but it meant taking a Government grant, which went against the grain. I prefer to stand on my own feet.
My interest in astronomy went back to the age of 7, and I had several slices of luck; a small observatory was near me, I was able to use it, and I published my first paper (about the Moon) when I was 13. After the war, I wrote a book about the Moon; it caught on, and writing took over my life - farewell, Cambridge! I set up my own observatory, first at East Grinstead and then Selsey, and since then I have been a freelance writer.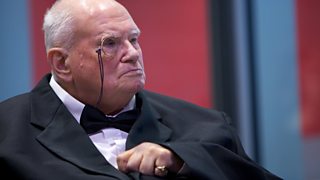 My aim was to spread interest about astronomy; in 1957 I began my TV series The Sky at Night, now in its 54th year of an unbroken run. Many leading astronomers and astronauts have joined me. I hope I have achieved my object, but that must be left for others to judge. I have been over most of the world, from Antarctica to Death Valley, so I have seen a great deal.
I won't bore you with personal details. Suffice to say that Lorna, whom I was to marry, was killed by a German bomb when we were both twenty (1943!) and so I remain, very sadly, a bachelor. My mother, to whom I was devoted, stayed with me; she died in 1981. I am now 88, and not very mobile, again thanks to the War. But until the age of 78 I was still playing cricket. I am well looked after in my Selsey home - and do not forget my two all-important cats, Jeannie and Ptolemy!