Main content
Ellie White
First things first; introduce yourself please
My name is Ellie White. I'm 24 years old. I perform character comedy.
I'd love to be on the Archers. In fact, who do I speak to about that?

Ellie White
Tell us about your most recent Edinburgh show
I did a split hour this year on the Free Fringe. I did half an hour of solo material which basically involved me showcasing four stupid accents and then character comedian and long time friend Oscar Jenkyn-Jones did half an hour. His stuff is absolutely excellent – utterly original and completely mad.
If you could have written any other show from the festival, whose would it be and why?
Liam Williams' stand-up show was absolutely sublime. Jamie Demetriou's character show was similarly astounding – his stage presence is truely unique and unbelievably impressive. Both of them made me feel like I'd never be able to write anything as good. Which, when looking back on it, wasn't a great feeling. Thanks guys.
Did you get up to anything fun besides performing? Be honest!
One night my house mates and I decided to take a taxi to the sea, seeking serenity and inner peace. We got in the taxi and said to the driver 'the sea please'. He clearly thought we were the most pretentious bunch of thesps he'd ever had in his car, but he obliged and dropped us off at an unspecific part of the Edinburgh coast. When we got there we couldn't see the sea because it was dark and the docks had prohibited access, so we stood by a fence for ten minutes, then walked home because we couldn't afford a cab.
How are you going to make your act work for the radio?
Hamming up the Austalian accent and taking out the audience participation will hopefully make it work for radio. If it doesn't, I'll blame it on the listeners. I mean, it's kind of their fault if they can't see me, right?
Are you hoping to do more radio in future?
I'm wondering if anyone has ever said no to this question? I'd love to do more radio in the future. I'd love to be on the Archers. In fact, who do I speak to about that?
Apart from Fresh from the Fringe, have you got any other projects we should watch out for?
Only more live shows, to be performed at a host of sweaty comedy clubs across London.
And finally, are you taking your show anywhere else?
Because I only did half an hour in Edinburgh, I'm hoping to develop it into an hour before I do any 'runs' as such, but I'm doing my half hour at the Invisible Dot in Kings Cross on 19th November. Does anyone want to come? I'll let myself out shall I?
Clips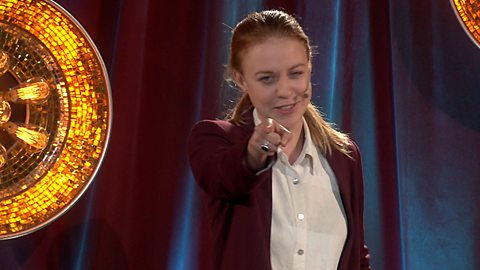 The character comic talks about juggling multiple jobs and her fear of the green room...