Main content
Humphrey Goodman
Disorganised, distracted and incredibly accident prone, Humphrey often struggled to avoid putting his foot in it - but this didn't stop him from being an absolutely brilliant detective.
Humphrey's shambolic exterior and continual insistence on writing his notes down on random bits of paper betrayed a cunning instinct for solving murders. It was second nature for Humphrey to think outside the box and approach each case from a unique and surprising angle. To the observer his methods seemed random and tangential, but after spending some time working with Humphrey, you would quickly realise that his eccentric and sometimes bizarre methods of detection always got a result.

For Humphrey, moving to the Caribbean was an exciting and unexpected adventure. He won the respect and trust of his team and also made good friends of them along the way. The only thing missing from this paradise life was having someone to share it with. All that changed with the arrival of Martha Lloyd. A chance meeting on Saint Marie reunited these two acquaintances and their spark was immediately obvious. After spending time together, their feelings blossomed into something more than a holiday romance. Unfortunately Martha had to return to her job in London, leaving Humphrey with a heavy heart. But when a case took the team across the seas to London, he finally had the chance to tell Martha how much he loved her. And it was clear she felt the same. After some soul-searching, Humphrey realised he couldn't risk losing the love of his life again. And so, once he had sorted his replacement, he decided to stay in London for good.
About Kris Marshall
Born and raised in Somerset, Kris made his television debut at an early age with an appearance on The Bill. His breakthrough role was in the popular sitcom My Family (2000).
Following his appearance on My Family, Kris went onto star on the big screen as Colin Frissell in the critically-acclaimed film Love Actually (2003). He also appeared in feature length films for television, including Catwalk Dogs (2007) and Heist (2008).
Other television credits include police drama series Murder City (2004), Funland (2005), Murder City (2004-2006) and Sold (2007). More recently, Kris has appeared in Traffic Light (2011), Citizen Khan (2012) and Lightfields (2013).
Kris joined the cast of Death in Paradise for the third series, which started in January 2014.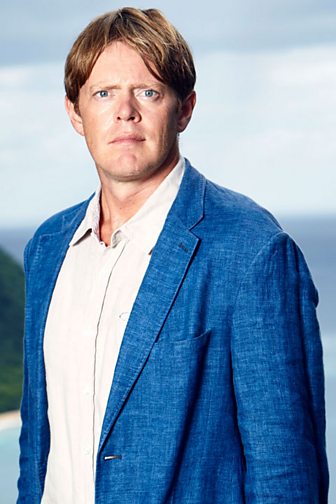 PAST CHARACTER

PAST CHARACTER

Past Character

Past Character

PAST CHARACTER