Main content
Steven Moore
Steven is an auctioneer, author and curator with a keen interest in ceramics.
| Fact title | Fact data |
| --- | --- |
| Joined the Roadshow: | 2004 |
| Memorable find: | A self-portrait sculpture by Danish artist Jais Nielsen |
Steven's passion for collecting started as a child. He looks back: "My father taught ceramics so I grew up with clay as a toy. The transformation of earth into an object of permanence has always fascinated me: I used to dig bottles from old tips and even skived off cross country at school to do this - bottles led to local pottery". By the age of 16, Steven had curated his first exhibition at Newcastle's Laing Art Gallery and he had written his first book by 21. After studying to be an archaeologist, he moved into antique dealing and writing.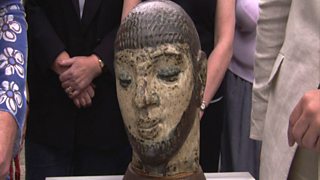 Steven joined the Antiques Roadshow team in 2004 and counts among his favourite finds a self-portrait sculpture by Danish artist Jais Nielsen, which was discovered at Coventry Cathedral in 2007. However, one of his most memorable Roadshow moments would have to be at Norwich Cathedral in 2005 when he was presented with a bottle of Scotch whisky containing a dead mouse!
If Steven could pick his dream item to see at a Roadshow, it would be a 'lost' pattern book from British potteries. So many of these were lost or destroyed when the firms closed, but a few were saved and might well be in the hands of Antiques Roadshow viewers…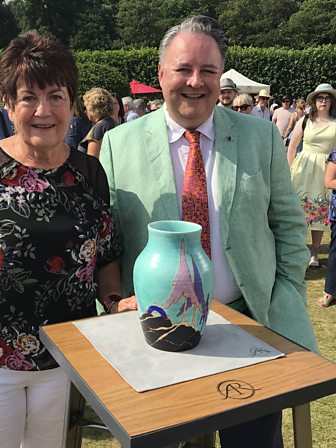 Arms & militaria

Arms & militaria

Arms & militaria

Books & manuscripts

Books and Manuscripts

Books & manuscripts

Books & manuscripts

Books & manuscripts

Ceramics & glass

Ceramics & glass

Ceramics & glass

Ceramics & glass

Ceramics & glass

Ceramics & glass

Ceramics & glass

Ceramics & glass

Ceramics & glass

Ceramics & glass

Ceramics & glass

Clocks & watches

Clocks & watches

Clocks & watches

Furniture

Furniture

Jewellery

Jewellery

Jewellery

Jewellery

Jewellery

Jewellery

Pictures & prints

Pictures & prints

Pictures & prints

Pictures & prints

Pictures & prints

Pictures & prints

Pictures & prints

Pictures & prints

Pictures & prints

Silver

Silver

Silver

Silver