Main content
Beth Mitchell
16 year old Beth has always seen herself as the girlfriend-in-waiting for Jamie. So Laura's pregnancy is clearly a personal disaster for her.
Beth is intellectually sophisticated, politically aware, and extremely vocal and strident in her views.
Don't ever take me disco bowling again.

Beth Mitchell
But when it comes to emotional matters, she's much less confident. She's smarter than most people around her but never gets taken seriously because she looks so young.
Beth tends to dress alternatively, disguising her lack of sartorial confidence as 'making a statement'. The truth is, whenever she goes for a more sophisticated look, she feels like a little girl playing dress-up.
She's extremely disappointed by recent events as she realises she may have mistimed her run on making her long-planned friend/girlfriend transition with Jamie.
How do you know Laura and Jamie?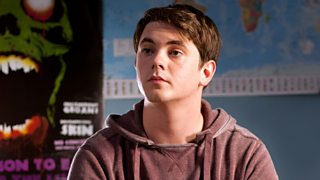 Beth is Jamie's friend, and wannabe-girlfriend...
Beth is Jamie's friend, and wannabe-girlfriend...
Beth spends a lot of time hanging out with Jamie and Mike – she holds a flame for Jamie, so the news that he has pulled anyone is quite upsetting.