Main content
Fallon Rogers
With her love of music and talent for promotion, Fallon is her mother's daughter, but there the similarity stops.
| Fact title | Fact data |
| --- | --- |
| Played by: | Joanna van Kampen |
| Born: | 19 June 1985 |
| Status: | |
| Occupation: | Owner and manager of the Tea Room |
| Lives at: | Woodbine Cottage |
The antics of Jolene and Sid made her cringe with embarrassment, and she has long ploughed her own furrow musically.
After a relationship with a man who clearly thought more of his cricket bat than he did of her, Fallon contented herself with a close friendship with Ed Grundy - until she started to fall for him. Sadly for her Ed decided to return to his true love Emma, leaving Fallon firmly single once more. Harry Mason seemed as impervious to her charms, while it was the other way around with her admirer Jazzer.
She was unexpectedly reconciled with her flaky father Wayne Tucson in 2009 and the following year had to hold The Bull together when her mother went to pieces following Sid's sudden death. At least her career flourished as in 2012 she took over as manager of Jaxx bar in Borchester.
This left her free to form a relationship with a former colleague - the Bull barman Rhys Williams, but this ended in March 2014 when he was offered a job back in his beloved Wales. Local police officer Harrison Burns hoped to fill the vacancy. Fallon was reluctant to start a new relationship, especially with a new business to get off the ground after Jaxx was taken over by a chain. But the attraction proved strong and they got together on New Year's Eve 2014.
I've working on an amazing sideboard

Fallon Rogers
Likes - Music, clubbing
Dislikes - Cricket (she lost boyfriend Kev to the sport)
Highs - Touring with her former band Little White Lies
Lows - Losing her stepfather Sid, whom she had come to love
Joanna Van Kampen
Joanna grew up in Pinner with her musician parents and elder brother. She had lots of early theatre experience with the National Youth Theatre and the Harrow Youth Theatre, with whom she performed twice at The Edinburgh Festival and in a charity gala at Drury Lane Theatre Royal. Once she had left school she trained at LAMDA.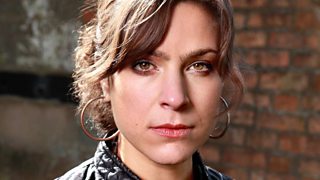 On graduating, Joanna worked mostly in the theatre. She's worked with many people including James Kerr, Di Trevis, Peter Gill, Nancy Meckler, Mike Alfreds and Simon Usher. She's appeared at venues including The National Theatre, The RSC, The Gate, Canterbury Cathedral and the ICA.
She was on tour with The Oxford Playhouse when she was cast as Fallon in The Archers.
Having previously lived in and around London all her life, Joanna now lives in the Brecon Beacons with her cabinetmaker husband and their two young children.
Archers highlights
My favourite Archers experience was when we went on location to the Glastonbury Festival. How amazing not only to get free tickets but to be paid to go as well! Once we were there we were able to get into some nice BBC toilets with our passes - a big bonus. And of course we were interviewed by the late, great John Peel.
we were interviewed by the late, great John Peel

Joanna Van Kampen
The morning after our first night Barry Farrimond (Ed Grundy) and I had a scene where we supposed to be hung over in our tent. We started recording at about 8am. Julie Beckett (our director) and Barry came in to our tent with a mic and away we went. Not much acting required!
Other career highlights
Doing a one-on-one scene with Paul Whitehouse in Happiness for the BBC.
Joanna on Fallon
Fallon has developed from a moody teenager to quite a strong woman. While she still gets a bit stroppy sometimes, she also has a real sense of integrity and really cares about the people she loves. I feel she's learnt from her past antics and her experiences have given her depth.
Favourite
Actor - Jim Broadbent and Michael Gambon. They have a real cheeky sense of fun. I also love Meryl Streep as she always delivers the goods!
Book - The Continuum Concept by Jean Liedloff. When I was pregnant with my first child I read this and I'm still harping on about it!
Film - Amadeus. It just has everything, and the music is obviously incredible.