Main content
Russia: Alexey Bogdanchikov
Alexey Bogdanchikov was born in Tashkent, Uzbekistan and studied at the Galina Vishnevskaya Opera Centre and the Tchaikovsky State Conservatory in Moscow, where, in October 2012, he returned to complete his master's degree in music.
In 2010 he was winner of the Armel Opera Competition in Hungary, which led to his engagement as Barrett in Marco Tutino's The Servant at the Armel Opera Festival in Szeged. He sang this role again in Pilzen, Czech Republic, and in Lugo, Italy. In 2012 Alexey won the 2nd prize in the European Vocal Competition DEBUT.
In 2011 Alexey made his debut at the Teatro Comunale di Bologna as Wolfram Tannhäuser and in the 2011/2012 season joined the ensemble at the Deutsche Oper Berlin. Roles performed on this stage include Ping Turandot, Maximillian and Capitane Candide, Morales Carmen, Christiano (Silvano) Un ballo in maschera, Deputato di Fiandra Don Carlo and Second Priest Die Zauberflöte. His repertoire also includes the title role Eugene Onegin, Robert Iolanta, Belcore L'elisir d'amore and Marcello La bohème.
Future plans include Prince Yeletsky The Queen of Spades at Ulan-Ude Opera House and concerts in Heilbronn and Muehlacker with the Heilbronn Symphony Orchestra.
Alexey enjoys reading and all sport, especially football.
Song prize recital two repertoire
Im wunderschönen Monat Mai – Schumann
Aus meinen Tränen spriessen – Schumann
Die Rose, die Lilie, die Taube – Schumann
Wenn ich in deine Augen seh' – Schumann
Ich will meine Seele tauchen – Schumann
Im Rhein, im heiligen Strome – Schumann
Ich grolle nicht – Schumann
Winter way (6 songs on poems by A Pushkin) – Sviridov
Approaching the Izhory (6 songs on poems by A Pushkin) - Sviridov
Son io, mio Carlo…Per me giunto…O Carlo, ascolta…Io morrò (Don Carlo) – Verdi
Rodrigo, Carlo's great friend, has been shot by an Inquisition assassin while visiting Carlo in prison. As he lies dying, he tells Carlo that his beloved Elisabeth will wait for him outside the convent of San Yuste the next day. He dies, happy in the knowledge that Carlo will continue the fight for liberty.
Mein Sehnen, mein Wähnen (Die tote Stadt) – Korngold
Fritz, a pierrot, is an admirer of the heroine, Mariette, and he serenades her with Pierrot's Tanzlied (Dance Song). This is one of the best-known arias from the 1920 opera 'The Dead City'. He sings with sad yearning of the magic of the dance, how he dreams of his lost love and how the extremes of intoxication and misery are a clown's lot.
Largo al factotum (Il barbiere di Siviglia) - Rossini
Figaro introduces himself in this famous 'patter' aria. Not only is he the barber of Seville, with his well-stocked shop, but he is also the general factotum of the city. He is happy to run errands, arrange meetings and perform all kinds of services – as long as he gets paid for it.
Clips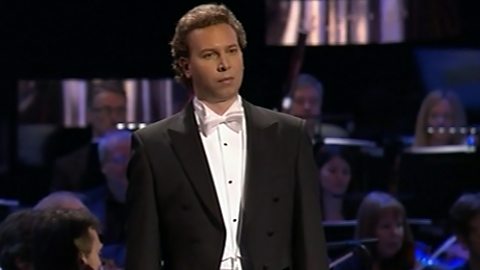 Baritone Alexey Bogdanchikov from Russia sings in concert two.