Main content
Kihwan Sim studied at the Yonsei University School of Music in Seoul before moving to the Hochschule für Musik und Theater in Hamburg. He was awarded first prize in the 2009 Mirjam Helin International Singing competition in Helsinki; second prize at the 2009 Neue Stimmen International competition; second prize in the first Paris Opera Competition in 2010 and first prize at the Long-Thibaud-Crespin competition in Paris in 2011.
He made his professional operatic debut in Germany with the title role in Le nozze di Figaro in Darmstadt, a role which he subsequently performed in Budapest and Seoul. Other engagements have included Leporello Don Giovanni in the KNUA Concert Hall in Seoul and Masetto Don Giovanni at the 2011 Savonlinna Opera Festival.
In 2011/12 Kihwan joined the Opera Studio at Oper Frankfurt and this season he became a full member of the Oper Frankfurt ensemble. Roles in Frankfurt during 2012/13 include the title role in Le nozze di Figaro, George Talbot in concert performances of Maria Stuarda, Colline La bohème and Quinault Adriana Lecouvreur. Future plans in Frankfurt include Procida Les vêpres siciliennes, Gottardo La gazza ladra and Count Rodolfo La sonnambula.
Kihwan enjoys the cinema and exercising in the gym.
Non più andrai (Le nozze di Figaro) – Mozart
Figaro teases the young, amorous teenager, Cherubino, who has been told to leave Seville and join the army. He tells Cherubino about the realities of warfare: there will be no more dancing with the ladies but instead he will be wading through the mud of the battlefield.
Quand la flamme de l'amour (La jolie fille de Perth) – Bizet
Ralph is apprentice to the glove maker and in love with his daughter, Catherine, who prefers the attentions of Smith, the armourer. Drunk, Ralph sings this lugubrious lament. To extinguish the flames of his unrequited love, he laughs, sings and drinks. He calls for the landlady to refill his glass, to help him forget his unhappiness.
Mögst du, mein Kind (Der fliegende Holländer) – Wagner
Daland, the sea captain, arrives home with a mysterious stranger. He introduces his daughter, Senta, saying that the rich stranger wants her to become his wife. Senta has been bewitched by a painting of the legendary Flying Dutchman, and is stunned to find him standing before her. They gaze silently at each other throughout Daland's introduction.
La calunnia (Il barbiere di Siviglia) - Rossini
Dr Bartolo is Rosina's guardian, and would like to become her husband. He is in cahoots with Don Basilio, Rosina's music master, who suspects that Rosina and the handsome young Count Almaviva are in love. Here, Don Basilio advises Dr Bartolo to discredit the Count by spreading a rumour about him. In a witty 'patter' song, he describes how calumny can start as a breath of wind and end as a storm of scandal.
Clips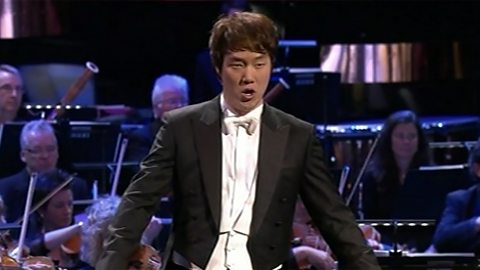 Bass Kihwan Sim from South Korea sings La calunnia (Il barbiere di Siviglia) by Rossini.