Main content
Ellie Goulding releases official single for BBC Children in Need
How Long Will I Love You is the official song for our 2013 campaign
We're thrilled to announce that Ellie Goulding's track How Long Will I Love You is the official single for our 2013 Appeal and will help raise money to support disadvantaged children and young people right here in the UK.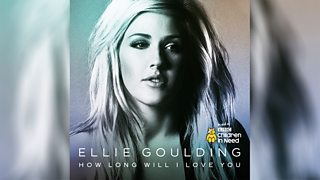 The charity single is now available by clicking here. A minimum of 20p per download from the single will be donated to BBC Children in Need. The exclusive television performance of the single will be broadcast in the BBC Children in Need Appeal Show airing live on BBC One on Friday 15 November at 7:30pm.
Ellie, who recently topped the UK charts with her hit single Burn, has sold more than 15 million singles and 4 million albums worldwide. Speaking of her involvement, she said: "I've grown up watching BBC Children in Need so it's fantastic that I'm doing this year's single! It is an emotional song, but in a really positive way, and I've been completely blown away with the positive reaction it's had already."
As the official artist behind this year's single, Ellie joins a long list of renowned performers including Girls Aloud, who supported the campaign with their comeback single Something New in 2012. Other past acts include JLS (Love You More, 2010) and the Teletubbies (as part of Peter Kay's Animated All Star Band in 2009), along with David Bowie, Tom Jones and Elton John, who featured on the iconic Perfect Day single in 1997.
Every penny makes a difference to children's lives right here in the UK. Thank you for your support.